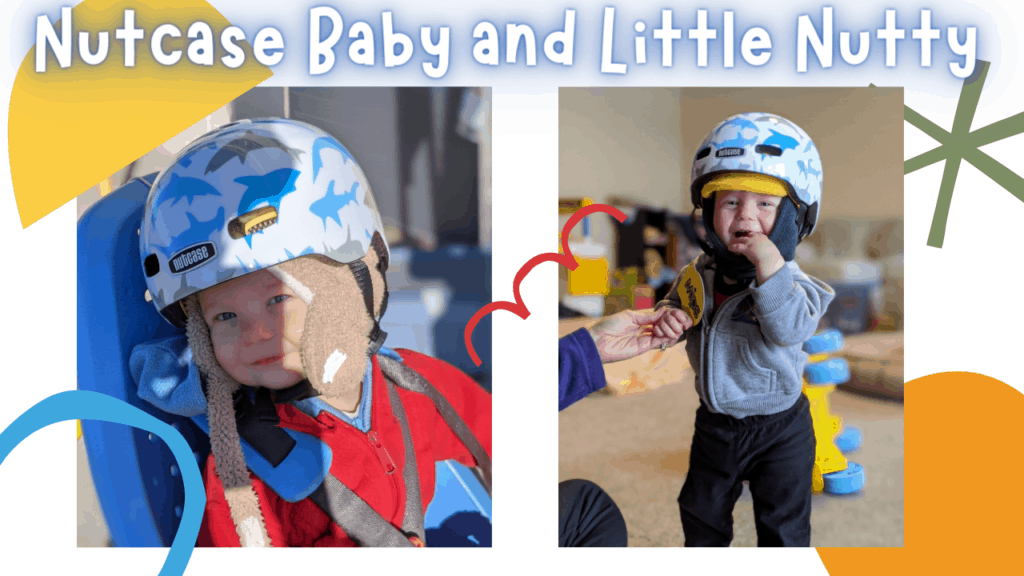 The Nutcase Baby Nutty w/MIPS offers incredible safety, style, and lightweight comfort for your small human at a reasonable cost. Priced at $59.99 with currently nine colors/patterns to choose from, you will love showing off your child's new snazzy headgear on your next ride. It's older brother or sister, the Little Nutty offers similar features and comes in at a still reasonable $69.99. In this Baby Nutty and Little Nutty helmet review we cover what you should know before making a purchase.
Nutcase Baby Nutty/Little Nutty Safety (MIPS is a must-have):
The Nutcase Baby Nutty (and Little Nutty) offers your small human superior brain protection with Multi-direction Protection System (MIPS) technology. MIPS is the leading technology for bike helmet safety designed to reduce the risk of brain damage through its ability to absorb rotational force in a crash. When the technology first came out, it added a significant cost to the consumer helmet. While MIPS is worth every penny, I am happy to see the price has gone down since it's first debut on the market. The Baby Nutty is a competitively priced brand to begin with, and now with its 2020 conversion to MIPS, you cannot go wrong with this purchase. 
Baby Nutty vs. Little Nutty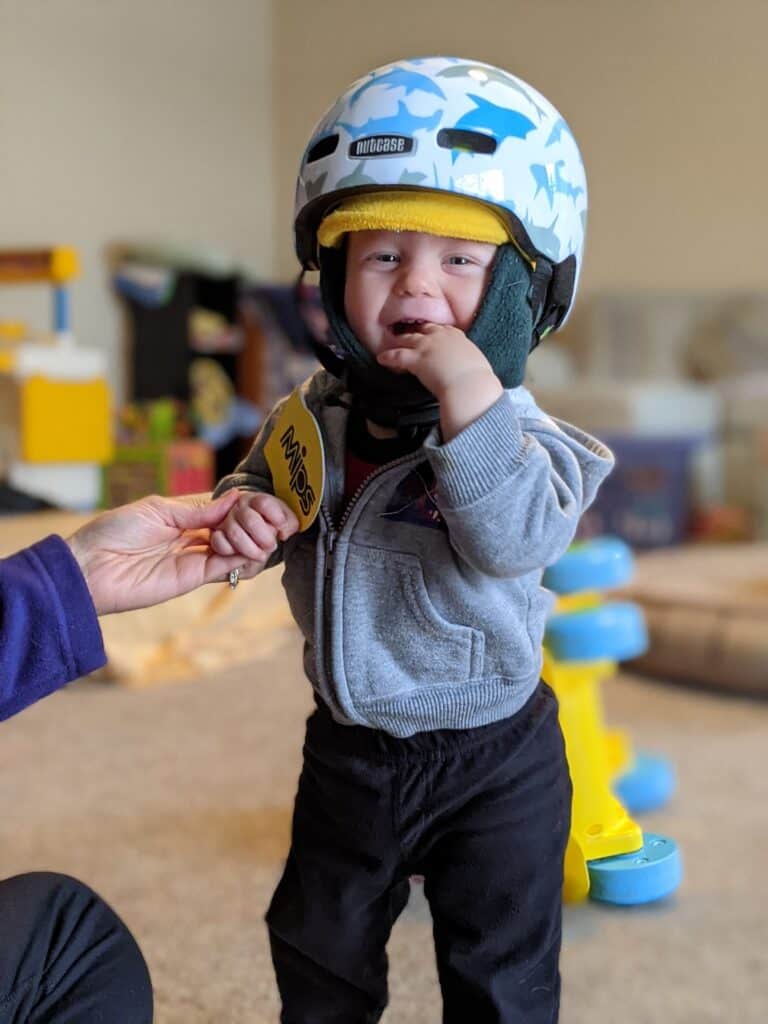 Sizes are available for nearly every small human starting with the Baby Nutty which fits 47cm-50cm circumference heads with the optional add-ons of 7mm and 9mm pads for the truly petite-headed humans. If you need a larger size, check out their Little Nutty line with two sizes available: toddler (48-52 cm) and youth (52-56 cm). Due to my family's large-headed genetics, my 3-year-old nephew fits a youth size which is the equivalent of the adult small. I am not kidding when I say we are large-headed folk. Looking for helmets for even larger heads? Nutcase has you covered there too with an adult size up to 62cm. They even offer a more premium adult helmet with built-in rechargeable LED lights (read about the Nutcase VIO w/MIPS here).
The Baby Nutty and the Little Nutty offer very similar features with a few differences to note:
No bee mesh barrier in the vents of the Little Nutty (Sad!)
The Little Nutty includes a visor
Adjustable click wheel for personal fit on the Little Nutty (Baby Nutty offers an elastic fit)
The Little Nutty offers 15 art designs (compared to Baby Nutty's 9 art designs)
Magnetic Buckle Clasp
Fidlock® snap-and-go magnetic buckle system is a must have for kids. It is offered on both the Baby Nutty as well as the Little Nutty. I cannot tell you the number of times I caught my neck in those traditional buckles as a youth. That hurts! This magnetic buckle system eliminates the possibility of catching your baby's skin. Pure magic!
Baby Nutty Air Vents (keep sweat and bees at bay!):
Eleven air vents will keep your baby cooler on those hot summer bike rides. I also have to give a shout out to the designers for making a mesh barrier on the front air vents in the Baby Nutty to prevent bee stings. This might seem trivial, but as an adult who has gotten stung through a vent while riding (OUCH)….I applaud you, wonderful Nutcase design team.
Baby Nutty Helmet Recommended age
While Nutcase states the Baby Nutty has been tested and certified for children age one and up, it can fit children younger (size-wise); however, you need to make that decision for your own tyke. Read on for more on sizing.
Cost Comparison
It is surprisingly difficult to find a baby-sized bike helmet. Add in the requirement for MIPS, the desire for a certain level of comfort and cuteness, plus affordability as this helmet will only fit less than two years and you are really going to struggle to find options in this size. That is why I love the Baby Nutty though; it checks all the boxes! Also, watch out for those sales as Nutcase often runs specials on their website.
Two comparative baby helmets to explore (comparative in size and MIPS only) would be the Giro Scamp MIPS (45-49 cm) which offers a mountain biking design. The Giro Scamp MIPS is currently listed at $59.95 on Amazon. You could also check out the Bontrager Little Dipper MIPS Kids' Bike Helmet (46-50 cm) which is listed at $64.99 and offers six colors to select from.
Conclusion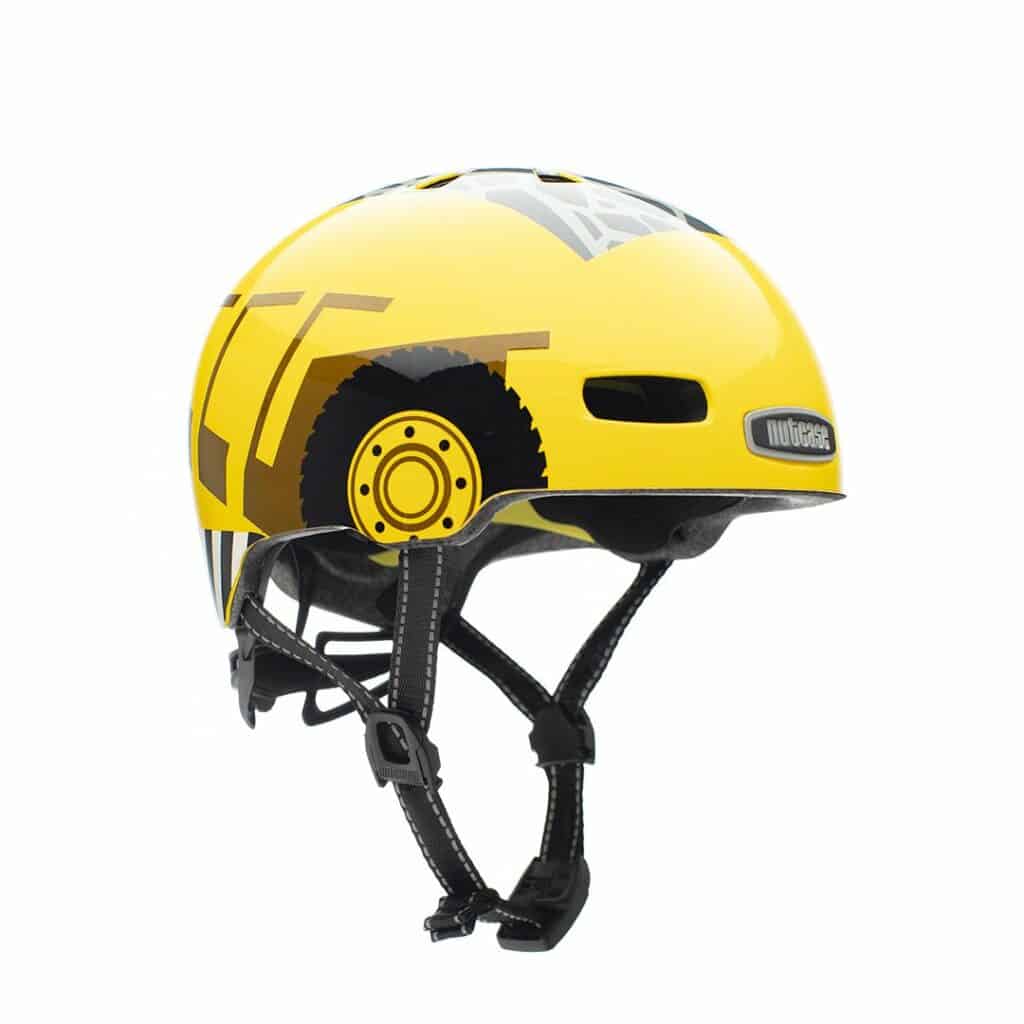 As I was writing this article, I texted my sister and asked where my 3-year old nephew's helmet was from. She hesitated and said a garage sale. Yikes.  I promptly headed online to Nutcase to explore their Little Nutty section. I purchased the cute 'Dig Me Gloss' Little Nutty as my nephew LOVES all things construction (plus it was on sale, SCORE!). I look forward to giving this helmet to my nephew because of how it is oozing safety features right out of its durable injection-molded ABS shell. He will love it simply because it is comfortable and has a yellow truck on it. Regardless, the Nutcase helmets are a win. If you are looking to purchase a Nutcase helmet please consider using our affiliate link which makes reviews like this possible.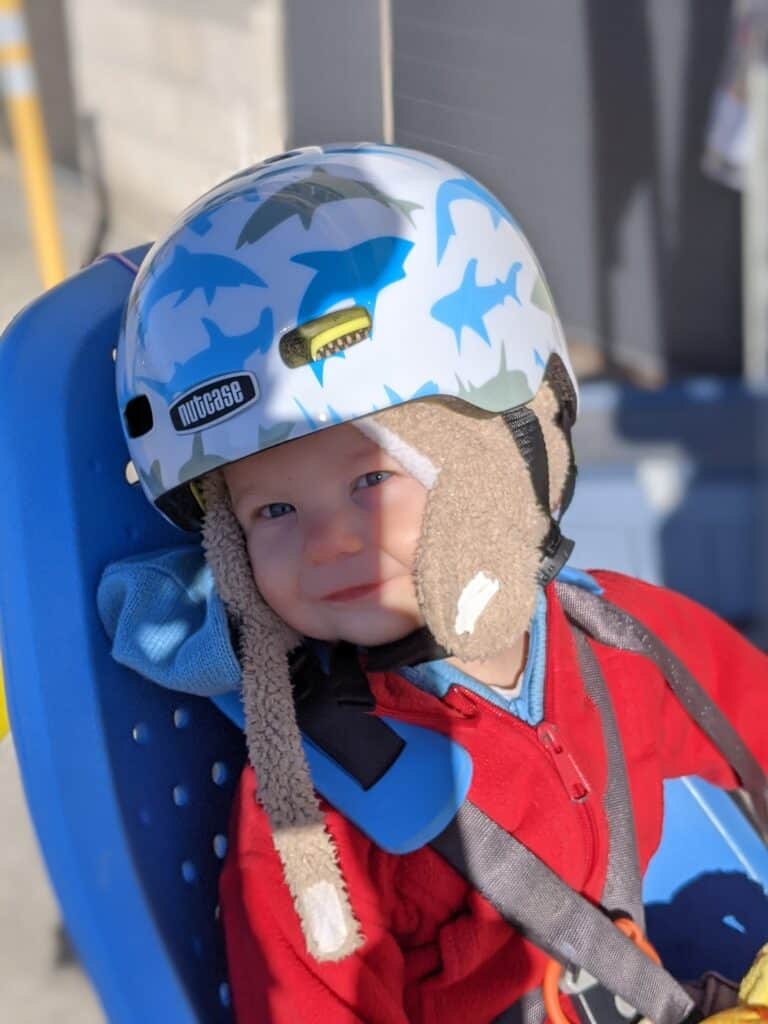 Note: While our Ebike Escape founder Ryan was on the hunt for baby helmet for his small new human, Lenny, he came across the Nutcase Baby Nutty. As you can imagine, Ryan had some tough standards that the helmet needed to meet. Safety? Check. Easy on/off? Check. Stylish? Huge check. Nutcase graciously provided the opportunity for Lenny to test drive the Baby Shark Gloss w/MIPS. Both Ryan and Lenny wholeheartedly approves of the Baby Nutty..