Nutcase is a company that has historically focused on helmets. Cool and unique helmets at that, from kids to adults at great prices. Happy with their helmts, reviewing both the baby Nutty and Vio we were excited when they launched the Nutcase three-wheel scooter and agreed to send us one. Our son was excited too!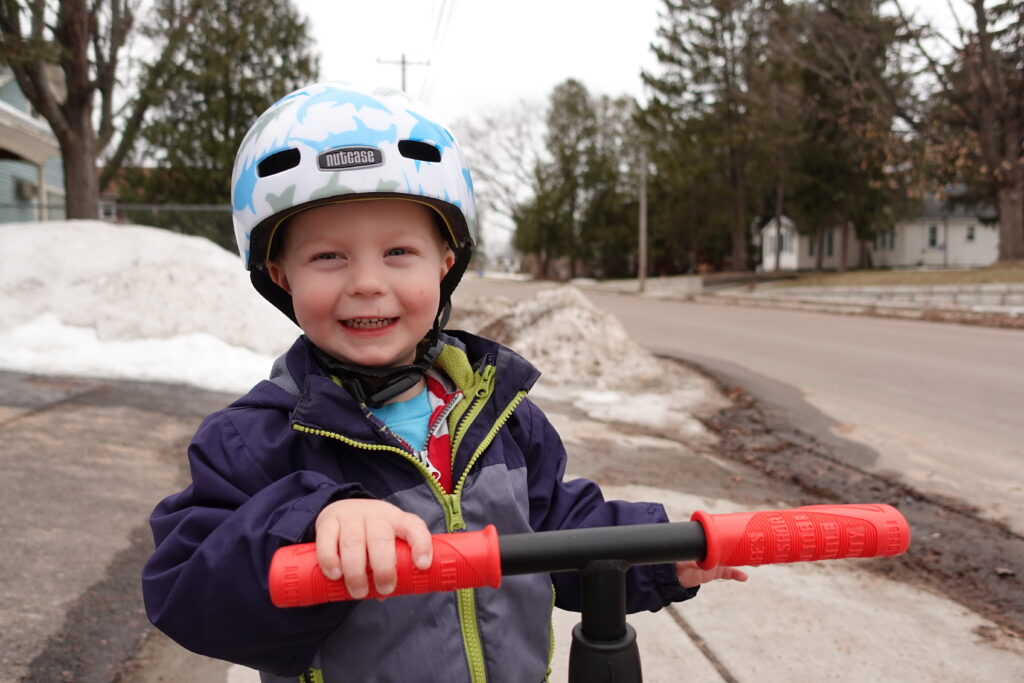 Premium Kids Scooter
The Nutcase three-wheel scooter is priced at $129, landing it in premium territory as far as kids scooters go. But you get a high-quality product that should last years to come. It comes in four different colors: Spark, Vibe, Berry and Red. See the other colors on the Nutcase website.
Our favorite features are the light-up wheels and the 7-ply wooden scooter deck. The wheels roll nicely similar to wheels found on roller blades. And best of all, no batteries are required for the lights to work! The front plastic cover resembles their kids' helmets' design aesthetics and hides the axle.
Nutcase Age Scooter Sizing
Nutcase lists the scooter for ages 3+. Our son is two and a half and the scooter helped him get the hang of pushing with his feet. It will be some time until he can utilize the rear brake and it shouldn't be too long until he gets a hang of the steering. It's a lean-to-strake system that is different from his balance bike. For now, we assist him in steering and he still has a blast.
In the images in this post, the handlebars are in their lowest position but there are a total of three options for height: 66cm, 72cm, and 78cm. The Nutcase scooter can hold up to 50 KG (110 lbs).
Other Features
The handlebars are easily removed with a button release. There is a removable rubber cap for access which also prevents water from getting into the scooter. The rubber grips are comfortable and Nutcase included an admittedly small pocket for any "finds" throughout his/her travels.
Conclusion
Like the Nutcase helmets, this feels like a well built product. We will be sure to update this post to see how the Nutcase kids scooter holds up over the years (and through multiple children). If you plan to purchase the Nutcase kids scooter and found this review helpful please use this link which makes content like this possible.