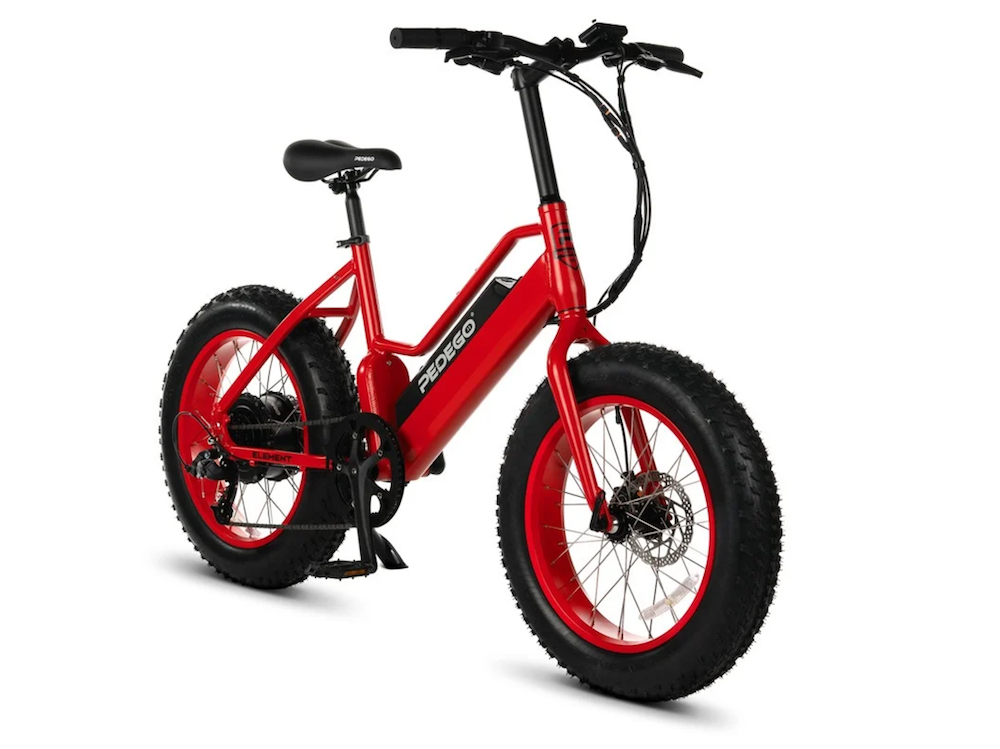 Pedego Electric Bikes already set themselves apart from the ebike market by having stores — yep, actual standalone stores. That came with a price though – Pedego's bikes ranged from $1,995 to nearly $5,000 for some of its top of the line models. But Pedego's latest is an offering in the class of ebike offerings from value-priced ebike brands such as Rad Power Bikes and Ride1Up.
Right smack dab on the front of its website is the new Pedego Element. Starting at $1,495, the Pedego Element is a fat-tired entry level bike that almost resembles a mini-bike from the motorcycle world.
That it's named "Element" is no mistake – the bike is clearly aimed at the weekender crowd, as a bike to keep up at the cabin and tool around the woods and to the corner store to resupply the cabin. And as a mini-tired fat bike, it should do just that.
The Pedego Element specs
The Pedego Element comes equipped with a 48 volt, 10ah battery, and boasts a range of 40 miles on about 10 cents worth of electricity. It's 500 watt nominal/1000 watt peak motor promises a boost in acceleration and hill climbing with ease, though the 45 Nm of torque rating is a bit disappointing. Rad Power Bikes' $1,199 RadRunner boasts a 750 watt peak motor, but has a much more impressive 80 Nm of torque. The Element tops out at 20 mph. Though it is likely capable of higher speeds, no word yet on whether the limit can be overridden.
It comes with both a twist-grip throttle for pedal-free cruising and a five-step pedal assist mode.
The Element comes equipped with a Microshift derailleur and shifters, a Taiwanese manufacturer that's been getting good reviews in the mountain bike world despite the price. It boasts a Shimano Hyperglide 7-speed cassette and Wellgo composite platform pedals.
The frame is built of Aluminum alloy and the brakes are mechanical disc brakes. The whole bike without battery weighs about 50 pounds or 57.5 lbs with the battery. This makes it lighter than several ebikes in its class.
If the wheels look short and fat it's because they are — the 20" wheels have a 4" width, rest it firmly in fat bike territory. The rims are set up for Schrader valves.
Other things to consider include the fact that the Pedego Element lacks a front suspension fork. And you're going to have to pay extra for accessories. The headlight, rear rack and fenders are all available aftermarket.
How does it stack up?
Most of the specs stack up nicely to ebikes in this price range though there are a few shortcomings. Perhaps the biggest disappointment is the battery size. Many ebikes offer 14 Ah batteries at this price range. If you're looking at the Pedego Element you may also want to consider ebikes that offer some similarities such as the Rad Power Bikes RadRunner, RadMini or RadRunner Plus – all fat tire ebikes with 20 inch wheels. If you're not wedded to the unique frame style from the Pedego Element, you may even want to look at the Rad Power Bikes' flagship ebike, the RadRover. These all offer a 750 watt geared hub motor (80 Nm torque) with a 14 Ah battery to give you a longer range.
Depending on where you intend to ride, you may even be looking at moped-style ebikes like my favorite, the Ariel Rider X-Class. If you have some wiggle room when it comes to budget check out some of the models from Juiced Bikes. 
But Pedego's big selling point is having actual physical locations. For a lot of ebike buyers, that's huge. The Element comes with a one-year warranty, and the ability to bring it right to a Pedego store to get it fixed.
According to the Pedego website, there are more than 120 locally owned Pedago stores now, since the bike company formed in 2008. That might be a huge bonus depending on where you live. Many of the Midwest states, such as Iowa, South and North Dakota, and Nebraska don't have one, for instance. The coasts and the south are well represented by stores. Check Pedego's website to see if a shop exists near you.
Although the Pedego Element is a new price point for the brand, it doesn't quite match up with similar or even less expensive ebikes. And will probably only appeal to a small number of customers who favor the smaller dirt bike style wheels. But, for the overlap of customers who want a dirt-bike style ebike and really value in-person customer service, the Element might prove a great option. Either way, it's great to see Pedego expanding into new price ranges and I hope this is the first of many new offerings (at attractive prices) from the company.