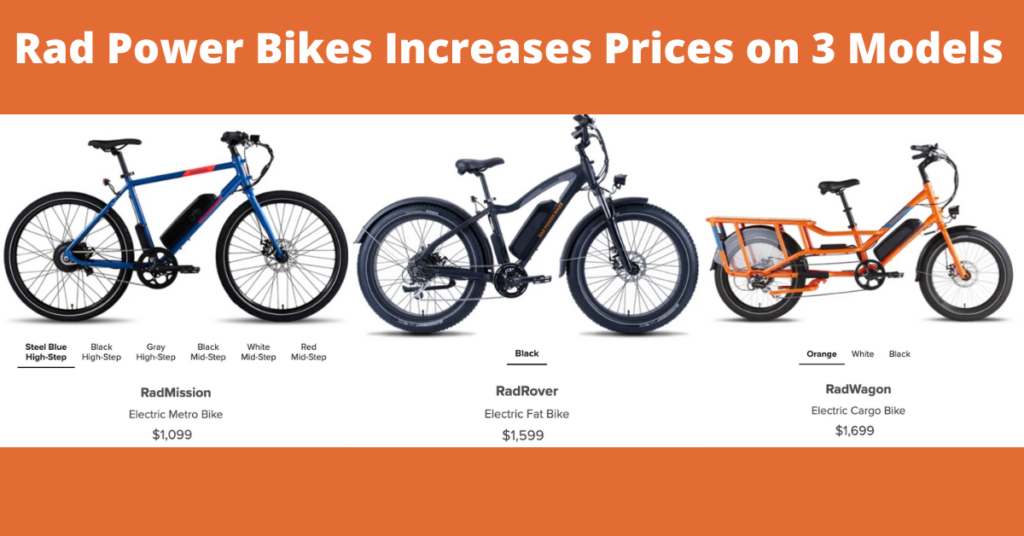 Rad Power Bikes historically has offered a majority of their electric bikes at $1,499. Now, it seems their pricing strategy has changed with three recent price changes. It started earlier this year when Rad Power Bikes announced the RadRunner Plus at $1,699 (my review). Until today, this was their highest priced electric bike with the majority of the remaining models priced at $1,499. The exceptions being the RadRunner ($1,199) and the RadMission.
The RadWagon 4 is now priced at the same $1,699 as the RadRunner Plus. Keep in mind the RadWagon 4 was just $1,499 for those that preordered (see my RadWagon 4 unboxing here). The $1,499 subsequently increased to $1,599 in late summer so this is technically the second price change in just a few months. Early purchasers of the RadWagon 4 were certainly rewarded for their willingness to preorder.
The RadMission is now priced at $1,099 which is less of a surprise given Rad Power Bikes stated the original $999 price was an introductory price. Another surprise price change is the RadRover 5, now priced at $1,599.
My Take
There is no word yet from Rad Power Bikes on the reason for the changes but it is hard to imagine that it isn't due in part to wanting to better control demand. On a recent episode of How I Built This, CEO Mike Radenbaugh noted that there were more Rad Power Bikes on order than they had sold since the inception of the company back in 2015. It is hard to imagine the growth of Rad Power Bikes, which is estimated to do $300 million in revenue this year – up 3x from 2019.
I think it's wishful thinking to believe that the prices will come down again for any length of time. That doesn't mean Rad won't offer discounts in the future but I think this pricing is likely permanent. I always believed the value of the RadWagon was unmatched and the RadCity left a bit to be desired compared to the other models. Now it seems that Rad is bringing the pricing in line with this and the demand from customers. While obviously not good news for consumers I still will continue to recommend Rad Power Bikes because they still offer incredible value. There just might be some other electric bikes I might recommend looking at as alternatives,
If you're planning to purchase a Rad Power Bike, please consider using my affiliate link which helps support Ebike Escape.