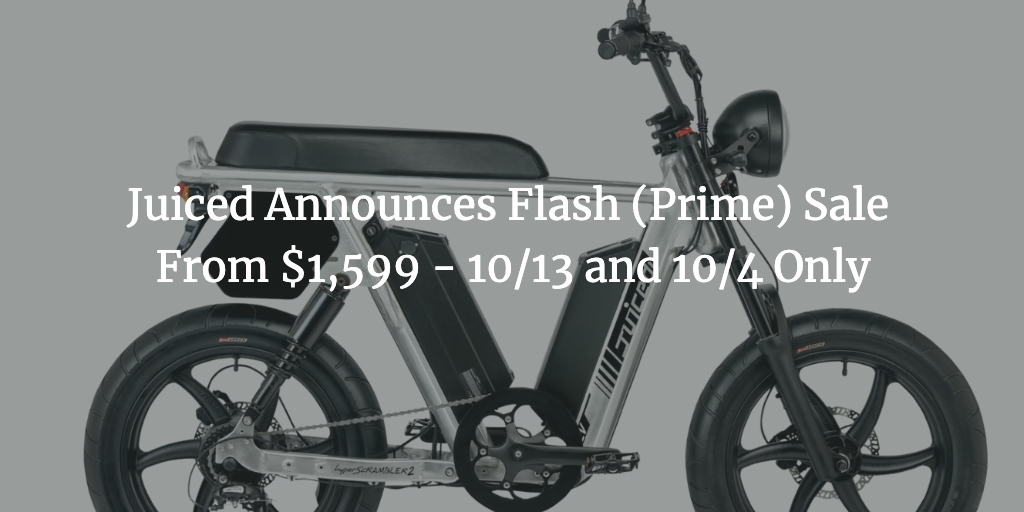 Update: The prices are now live and two ebikes are on sale: the Scorpian and HyperScorpian
Juiced Bikes often offers sale pricing on their electric bikes. The company recently announced that they were holding a flash sale on October 13 and 14, 2020. They are looking to attract customers who are already shopping online for Amazon's popular Prime Day, taking place on the same days.
According to a post on Instagram, Juiced electric bikes will start at $1,599. It is likely that both the Scrambler and the Scorpian will be discounted $200 since they are the most affordable ebikes that Juiced offers. Exact pricing is not yet available. Below I pulled prices current as of October 11th. On October 13, I will update the flash sale pricing. Using affiliate links in this article to make a purchase support Ebike Escape.
| | | |
| --- | --- | --- |
| Model | Price (Oct 11) | Flash Sale Pricing (Oct 13 & 14) |
| HyperScrambler 2 | $2,499 | $2,499 |
| Scrambler | $1,799 | $1,799 |
| Scorpian | $1,799 | $1,599 |
| HyperScorpian | $2,799 | $1,999 |
| RipCurrent | $1,899 | $1,899 |
| RipCurrent S | $2,499 | $2,499 |
| CrossCurrent S2 | $1,899 | $1,899 |
| CrossCurrent X | $2,499 | $2,499 |