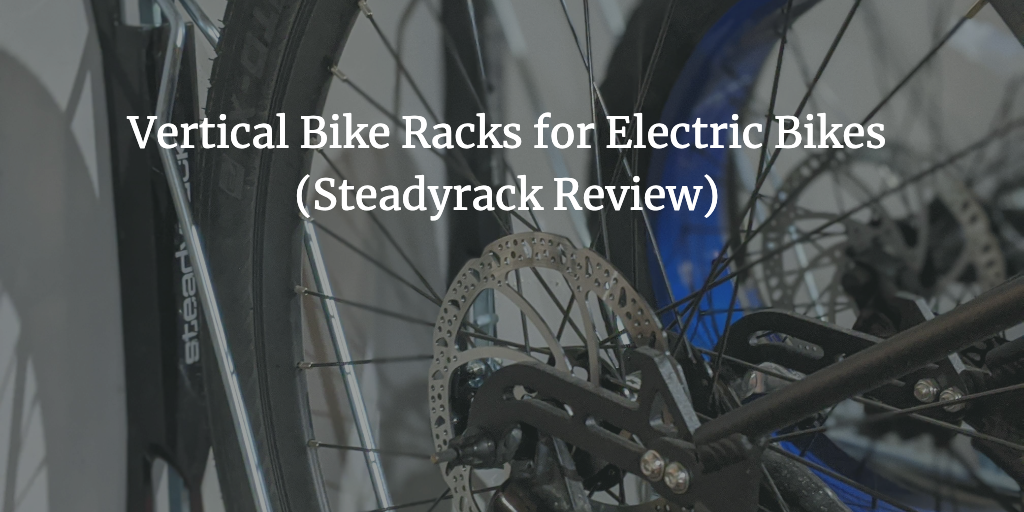 With electric bikes growing in popularity I commonly get asked about ebike storage. Ebikes are typically heavier than your standard analog bikes. Thus there are fewer options when it comes to garage storage for your ebike. One company that makes racks to handle such weight is Steadyrack. They are based in Australia, but have an office in the US. Steadyrack graciously provided vertical bike racks for all of our bikes to make this Steadyrack review possible. If you're interested in purchasing these racks, they are available directly from Steadyracks' website or on Amazon.
Before I got started installing my Steadyrack racks I prepped a back wall of my garage. This included drywall mud and paint. Besides storing my ebikes, this wall also serves as the backdrop for many of my YouTube videos (see video at the bottom of this post).
Steadyrack Models and Weight Capacity
To complete the project, Steadyrack sent three mountain bike racks, two classic racks and one fat tire rack. Steadyrack sells four different models: Classic, Mountain Bike, Fender, and Fat which are shown below. With the exception of the fender rack, they are all rated at 35 kg or approximately 77 lbs. The fender rack is rated at 25 kgs or approximately 55 lbs. The racks accommodate a wide range of tire widths and tire sizes. Note that the tire sizes between the classic rack and the mountain bike rack overlap, meaning some savings can be had by buying the cheaper option on Amazon.

While the lower weight limit on the fender rack is disappointing, it is worth mentioning that some mountain bike style fenders will still work with the non-fender racks. The blue bike second from the left shown below (Ariel Rider X-Class) has fenders that easily clear the rack. I am hoping Steadyrack will eventually come out with a fender compatible model that can accommodate heavier weights.
Steadyrack Install
For install, the Steadyrack bike racks can either be mounted to wood (vertical mounting holes) or masonry (horizontal holes). Drywall installation is not recommended. Once I found one stud I measured 16″ over to install the next rack. One option is to mount all of your racks at the same height. However, there is a downside to that as some bikes will hang higher off the ground than others. This is a bigger concern when you consider the weight of ebikes. Above you'll notice the height of my racks depends on the overall length of the bike.
Once you have your mounting location, you simply place your bike rack on the floor and insert the front wheel, just how it would hang from the wall. The rear wheel should touch the wall. Mark the mounting holes on your floor and simply measure the distance from the wall to the hole (see video below for demonstration). This is the height that you should mount your rack, but be sure to add 1-3″ to that distance. This is the distance your bike will hang off the ground. When installing the vertical racks to hold our ebikes I tried to make sure that the bikes hung just above the ground.
Taking Your Ebikes On and Off the Rack
One of the neat features of the Steadyrack vertical bike racks is that they pivot 180 degrees. This saves even more space and allows you to move other bikes out of the way when you are removing one from the rack. It also helps prevent any issues with handlebars or mirrors touching.
It does take some strength and balance to put your ebike on the rack as well as remove it. You need to be comfortable with maneuvering your ebike on the rear wheel alone. Using the rear brake will help you maintain control. In our experience, placing the ebike on the rack is easier than removing it. It also helps to brace the bike seat with your knee for additional control. If you want to see this in action, check out the video below. You can also try balancing your ebike on the rear wheel at home before deciding to purchase a Steadyrack. I realize that not everyone will be able to do this, but with some practice, it becomes much easier.
Steadyrack Review Conclusion
The Steadyrack vertical bike racks are a quality product and I was really pleased with how the project turned out. It feels like I'm walking into a bike shop every time I step into my garage. If you are able to handle your ebike and your ebike is compatible with one of the models then Steadyrack is a no-brainer. You will appreciate the extra garage space. Unfortunately there just aren't many options in the market today and I hope at some point Steadyrack offers a fender rack that can handle any ebike on the market.
Planning to purchase a Steadyrack vertical rack for your electric bike? Check out the Steadyrack website or buy it from Amazon. Links help support Ebike Escape and make reviews like this one possible.