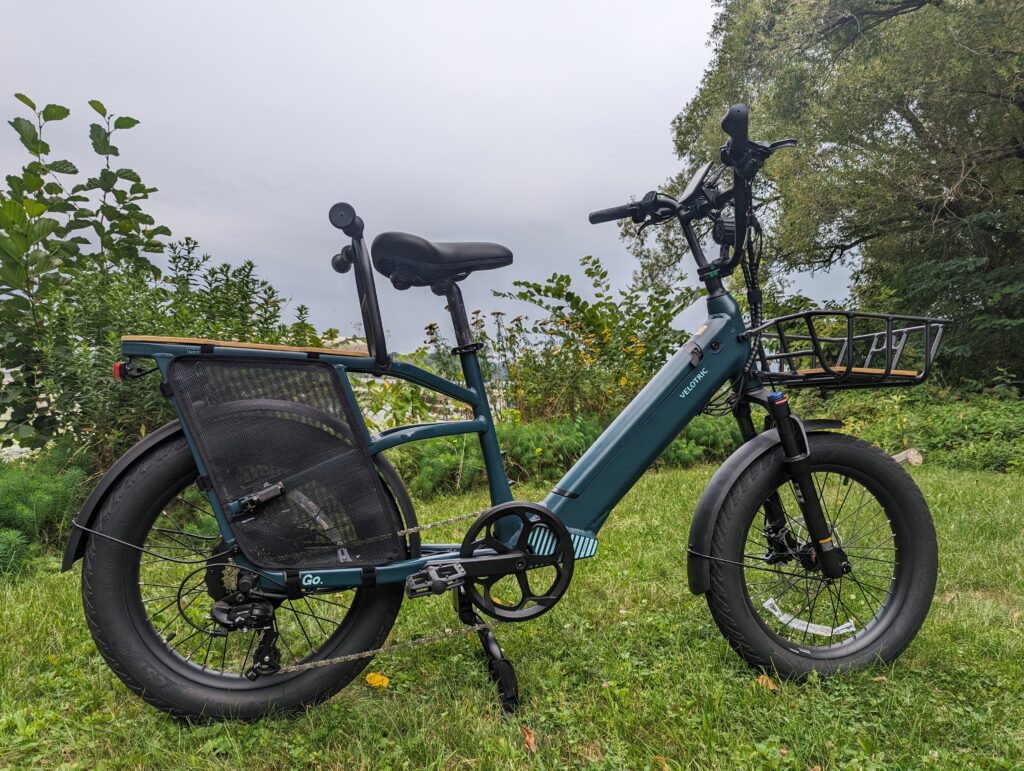 The Velotric Go 1 is the latest model in their growing ebike range. It is a versatile, utility, city-type bike, for both cargo and passengers. It is a highly customizable and well-built ebike, retailing at $1799, though available on sale – for an indefinite period – at $1699. Velotric is offering a variety of package deals too, encompassing a useful assortment of accessories at a reasonable sub $1750 price-point.
Be sure to use our affiliate link if you are interested in purchasing the Velotric Go 1 which helps support Ebike Escape.
Velotric continues to be the only company including Apple's "Find My" technology in the affordable range. And the Go 1 model also meets two safety standards – the UL 2849 and UL 2271 – to protect against fire risk. The 500 watt nominal, 900 watt peak motor – with 65 Newton meters of torque – performs well.
Watch our in-depth video review for a closer look or read on for our written review:
Velotric Go 1 Video Review
Velotric Go 1 Capacity and Colors
As a city-type bike, the step-through frame has low-diameter CST tires, which, at 20×3", with street tread, are also wide enough to offer reliable road handling, even with loads. The through-axle – rather than quick release – is a definite upgrade for added weight-bearing. Payload capacity is 440lb, and an optional rear rack is capable of holding up to 120lb.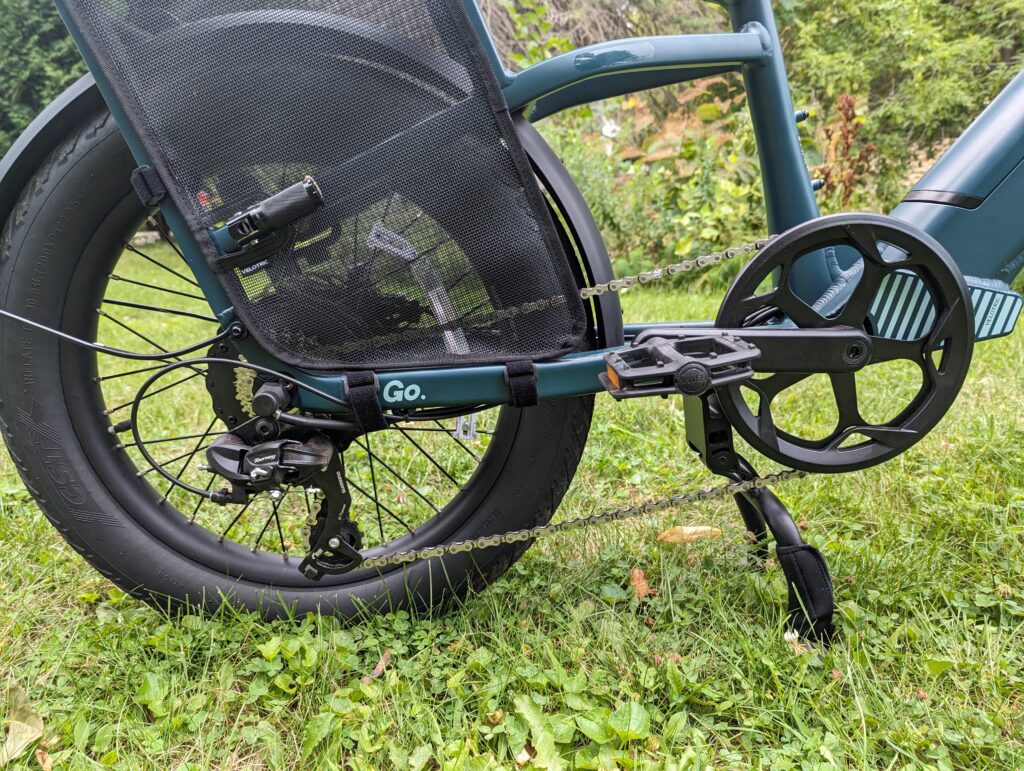 The ebike itself weighs in at 65lb and is suited to heights from 5' to 6'6". Compact, BMX-style handlebars enhance accessibility as well as boost the fun factor. Taller riders may feel like they are towering over the handlebars and frame due to having to increase the seat height.
Full coverage plastic fenders front and back are included along with sporty mesh rear guards. There are two color-ways: Forest and Indigo Gray; along with subtle branding.
Velotric Motor Power and Speeds
The paint-matched battery is a convenient, top-loading 48V, 14.4AH which is about average, and a 3 amp, wall-mountable charger is provided. The thumb throttle is on the left and on the right handlebar is a quality Shimano 7-speed trigger-shifter.
Velotric's black and white display is simple but effective, with all key information easy to see, along with a USB port at the bottom. A discrete 5-button control pad on the left cycles through functions, including battery and pedal assist levels, speed and odometer.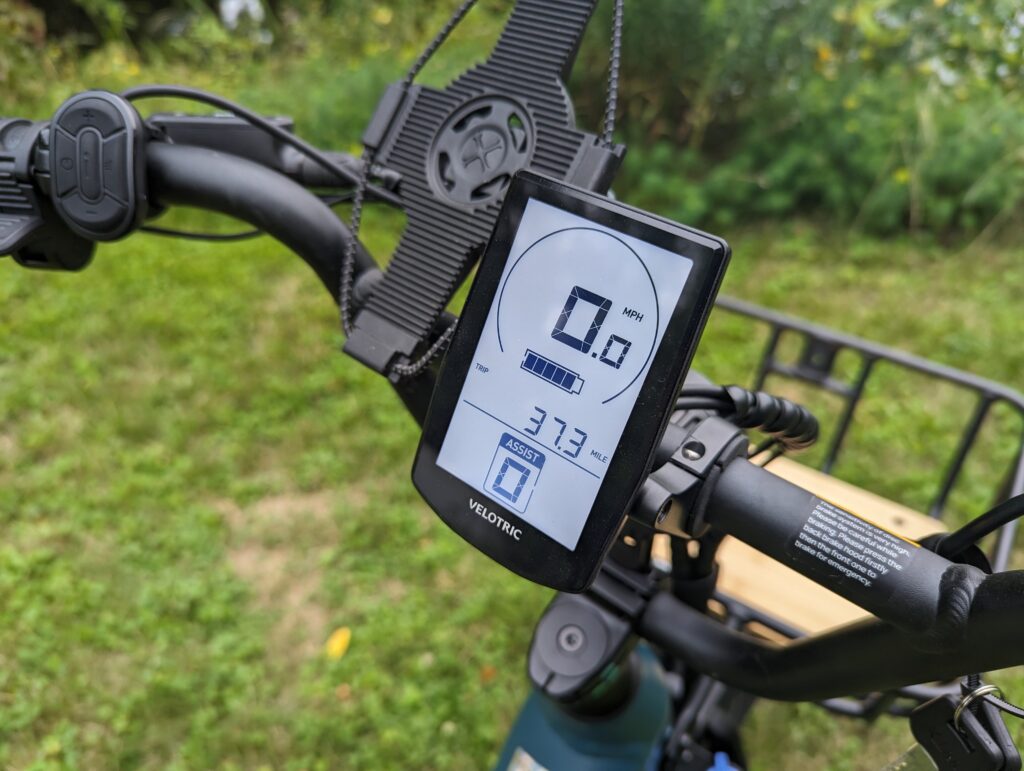 The bike ships as a Class 2, up to 20MPH, but can be upped to Class 3 top-speed of 25MPH by contacting Velotric. Five levels of Pedal Assist are accessed via a speed-based Cadence Sensor, meaning the motor is restricted to certain speeds at each pedal assist level.
Comfort, 4 piston hydraulic brakes and shifting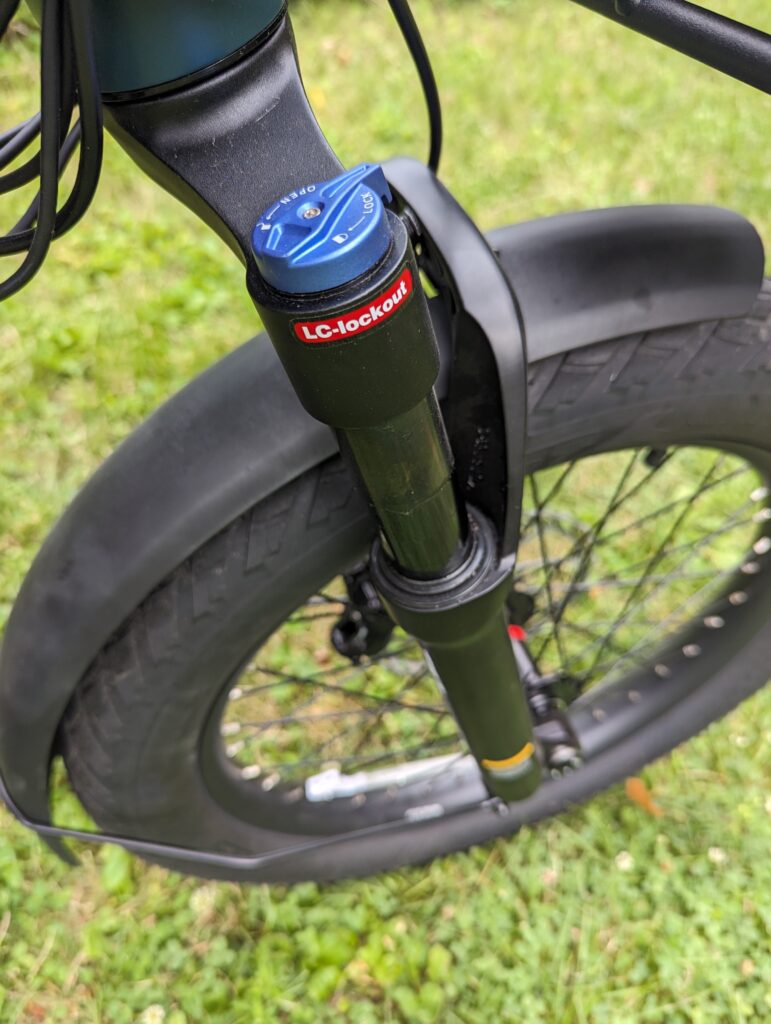 Even though the Go 1 is pitched at city riding, it's great to find a hydraulic front suspension fork for bumpier rides. Plus Velotric includes a comfier than most saddle that most won't find the need to upgrade.
And this is the only ebike in this price range to include 4-piston hydraulic brakes, for a sure stop (even if they, and the levers, are unbranded). Rotors are 180mm and motor cutoffs on the brake levers cut power to the motor instantly when applied.
Gearing is a 13-24 teeth at the rear and a 52 tooth single-sided chainring up front. The derailleur is Shimano's entry-level Tourney, which is adequate for this model and is a component even featured on ebikes over $2000.
Impressive Accessories
The 130 lux integrated front headlight, stem mounted, is one of the brightest around. The rear light is less powerful but doubles as a brake light. Sleek cable management is excellently done and the ergonomic, locking, and rubber grips add to the comfort. The dual-sided kickstand is very user-friendly and stable even on grass. Plastic pedals are pretty basic.
Velotric offers a great range of accessories, including a rear seat-pad ($66.99), rear-seat pegs ($29.99) and passenger handlebars ($56.99). The generous optional rear basket is nicely finished with a liner, including pocket ($89.99) and the optional front basket ($89.99) is also worth considering, especially in the bundled package deals. The wooden platform on top of the rear rack is included.
This company also packages its included accessories really well, with clear labeling and individual boxes for tools, charger and manual.
In Conclusion
The Velotric Go 1 is a fun and functional addition to their range. Utility bikes are a versatile hybrid, enabling haulage, whilst remaining nimble on city streets. On balance, the Go 1 offers enough higher-end components to make it a great value choice and it's a steal at the 'sale' and package prices.
Electronics (Battery, Motor, Display)
8
Components (Shifter, Derailleur, Fork, Brakes)
8.5
velotric Go 1 Pros
Nimble, strong & fun
4-piston hydraulic brakes
Impressive motor power
Trigger shifter
Powerful headlight
Comfortable seat
Great range of accessories
Well priced
UL certified
Front suspension fork
Well-packaged and nice box opening experience
Apple Find My included
velotric Go 1 cons
Speed-based cadence sensor
Entry level derailleur
13 tooth cog at rear
Plastic pedals