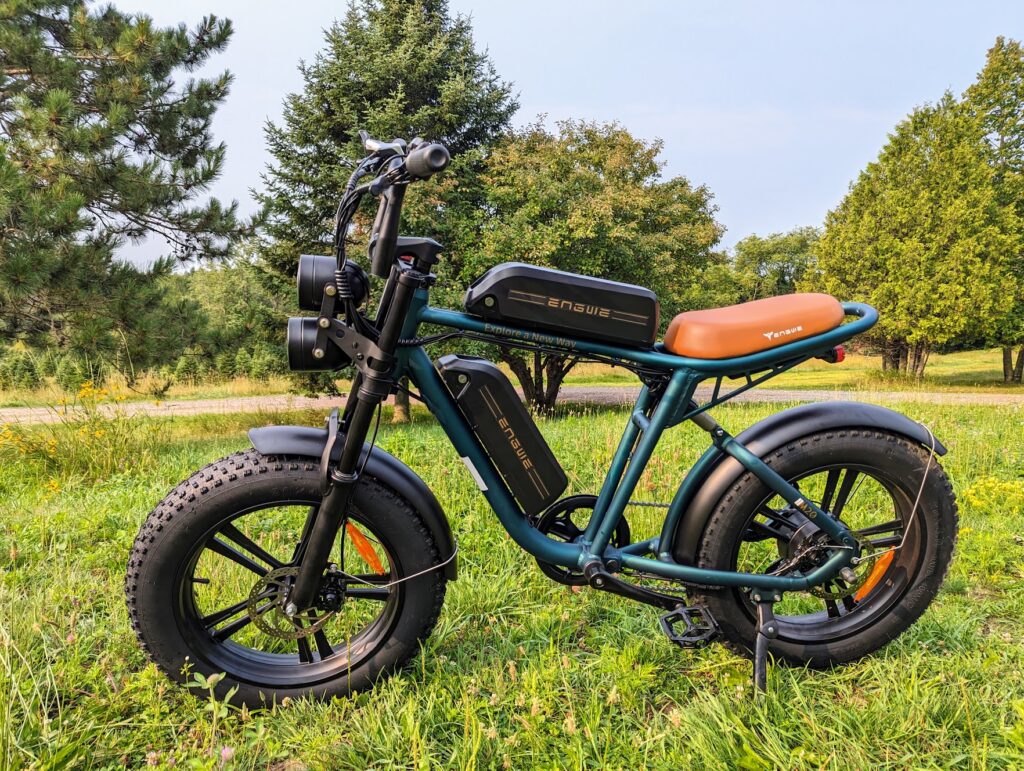 The moped-style Engwe M20 is the first Engwe ebike we had the chance to review. Due to its styling, the Engwe M20 blurs the line between ebike and motorcycle. The 20-inch Mag wheels, dual-beam headlight, double crown front fork, and placement of the second battery help add to the motorcycle styling. The gussets on the frame and slim seat add to the aesthics. This may be a great ebike if you want the look of a motorcycle but not the cost, speed, or noise.
This moped-style ebike starts at $ 1,149, much less than its closest competitor. The price is so great that even if you buy the dual battery option, it is still one of the most affordable bikes in its class at $1,449. Why is it that cheap? Let's review what Engwe got right on the M20 and what you should consider before purchasing one.
If you plan to buy an Engwe ebike, please consider using our affiliate link. It is a free way to show your support and let us continue to review ebikes for riders like you.
Engwe M20 Video Review
Review of the Frame Style for the Engwe M20
As described above, the Engwe M20 is styled to look similar to a motorcycle, much like other moped-style ebikes. The BMX-type handlebars allow the rider to be in an "over the bars" position. All of this makes the M20 feel maneuverable and super fun to ride. It also means that the seat is wider than a normal bike seat and is not adjustable or easily replaced. This makes pedaling challenging which is common in this ebike category. This is not the kind of ebike you can easily pedal home if the battery runs out.
The frame comes in a single size with a standover height of 30 inches. The website claims it will fit riders between the heights of 5 feet and 6 feet 8 inches. That seems like a wide range but could be reasonable, assuming you won't be doing any significant pedaling.
The Engwe M20 comes in three colors, a deep, bold green, as well as black, and white.
The load capacity is 264 lbs, which is low for comparable ebikes. The weight of the bike itself is 104 lbs with the dual batteries, which is on the heavier side for similar bikes. The bike's weight with a single battery is 94 lbs, which still puts it on the heavier side of the spectrum.
Seat and Suspension
Everybody's seat preferences are different, but we found the seat on the M20 a bit hard to sit on for prolonged periods. The suspension on this ebike helps make up for the less comfy seat. The hydraulic front fork is adjustable but has no lockout, and the HLT rear shock could handle some off-road terrain and an aggressive riding style. Unfortunately, the rear shock is not adjustable, but we didn't find it an issue with a heavier rider. Many enthusiasts opt to swap out the rear shocks for something more tunable.
Battery, Motor, and Speed on the Engwe M20
This is where the Engwe M20 really shines. The Engwe M20 is a class three ebike with a top speed of 28 miles per hour and is powered by a 750-watt nominal rear hub motor with a peak wattage of 1,000. On our video review, the Engwe could haul our 225 lb test rider up the hill but struggled to keep up the speed.
It is not the only ebike on the market with a lower torque of 55nm, but it is considerably heavier, hurting the speed. The motor and setup will get you where you are going on flat ground, but if you want to speed up the hills, you may want to consider other options.
You have two options for batteries with the Engwe which one of the highlights of this ebike. You can get the single 48V 13 Ah battery, or for an extra $400, you can get an identical second battery for a massive 26 Ah of total capacity. In our opinion, the extra battery is generally worth the investment. The advertised range for a single battery is 46 miles per charge, which, of course, depends on many variables. If you are going faster or up hills, assume you will go much less on a single charge. The battery is not UL certified.
Pedal Assist and Throttle Power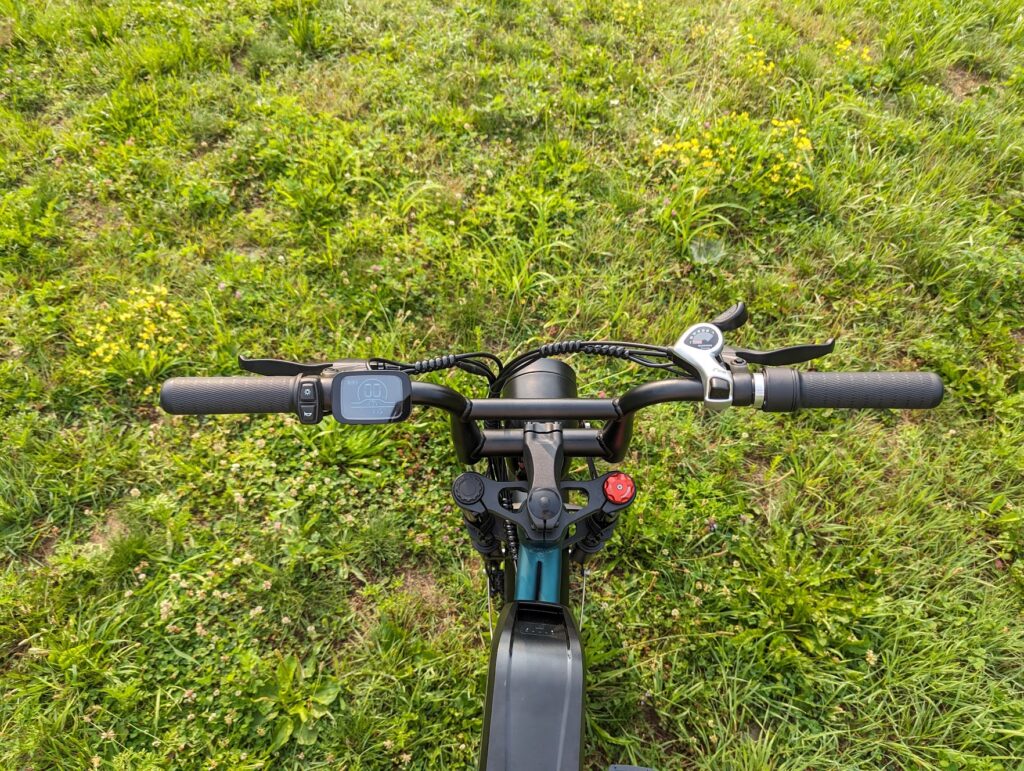 For those who want to pedal, there are 5 levels of pedal assist, engaged with a cadence sensor.
What you will likely be using more is the throttle. A pronounced lag exists between twisting the throttle and the actual motor engagement. While it is common for there to be a little bit of lag, this delay was even more noticeable than others.
The throttle control is also a full right-hand twist grip rather than a half-twist throttle. This is common on motorcycles but not on ebikes. So be sure to get in the habit of turning your ebike off before dismounting. Thankfully, there is no throttle available at pedal assist level 0.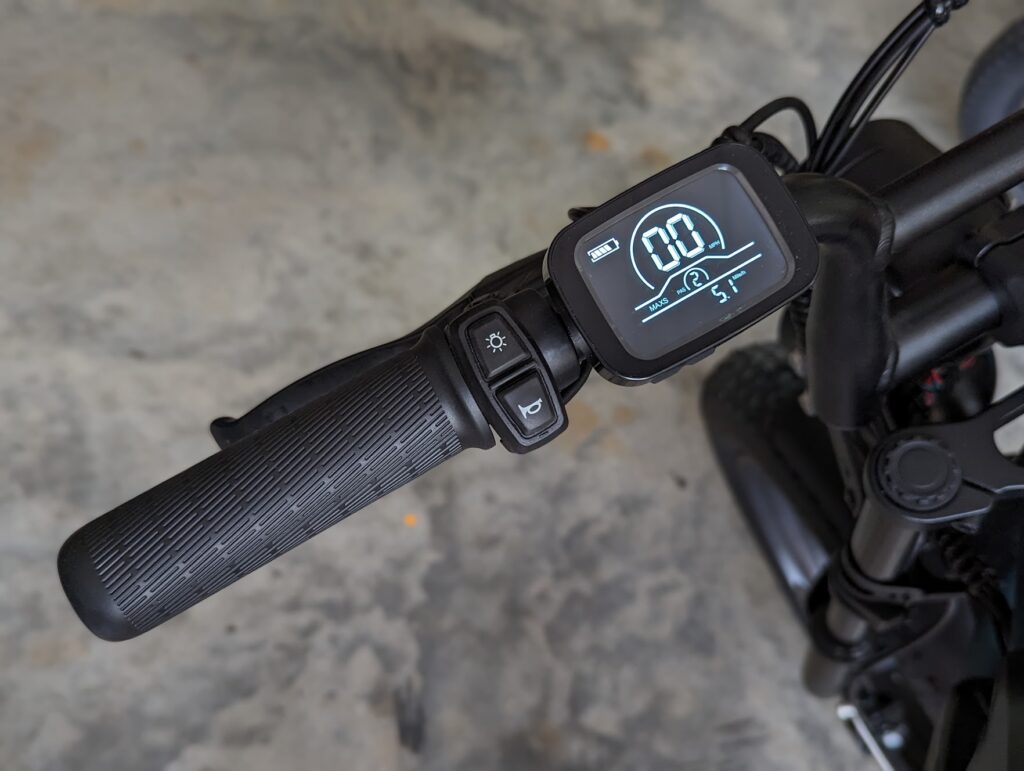 The LCD display is black and white and can be seen reasonably well in the sun. It displays what you need to know including speed, current speed, and battery. Check out our video review for a more in-depth walkthrough of the LCD display and the advanced settings. One helpful feature is you can set a passcode which is required when turning the bike on.
Components on the Engwe M20
For those who plan to pedal, the Engwe M20 has a Shimano Turney derailleur, which is the entry-level Shimano model. It has 7 gears with 14-28 cassette and a 48T front chainring. There tends to be a decent amount of ghost pedaling, even in PAS 1.
The 160mm rotors are unbranded mechanical disc brakes. They got the job done, but more pressure on the levers and more distance were required to come to a full stop. Most moped-style ebikes have hydraulic disc brakes that stop quicker and incur increased costs. Though admittedly not at this low of a price point.
The mag wheels really add to the motorcycle or moped feel. Plus they will never need truing like spoked wheels. They are matched with 20″ x 4″ Chaoyang fat tires. The tires have some knobby tread that allows some modest off-roading. Front and rear fenders are included.
One of the highlights of the components is how bright the integrated taillight is, along with the incorporated brake lights. The dual headlights have a fun styling and are integrated. Headlights do not come pre-installed.
View the full components list.
Assembly and Customer Support of the Engwe M20
With this value-priced ebike, we were not surprised to have some assembly required. Engwe includes tools and instructions. We found some parts of the instructions helpful and complete, but others seemed to be missing details.
This ebike was put together by JT, who has a mechanical background and a lot of experience putting together ebikes. If you don't have that kind of background and you get the Engwe M20, don't be surprised if you have to search for additional instructions online for a complete assembly. We also had to use some of our tools as not every wrench size needed was included.
Additionally, some printed material appears to have been lost in translation with this Chinese company. For example, a "warm tip" tag was probably meant to say "warning."
Engwe is a Chinese-based company like several others offered on the market. In our experience, customer support can be hit or miss generally with Chinese brands. Checking Facebook groups, calling or emailing the company, and reading comments on reviews like ours are good ways to see what others have experienced with the company. This is especially true for companies we have less experience with; this is our first Engwe review. We would love to hear from you if you have any hands-on experience with Engwe and their customer service.
If you're less concerned about customer support than getting a great deal on an ebike this may weigh less into your decision.
Concluding Remarks of our Review of the Engwe M20
The overall price was the biggest highlight of why we chose to review the Engwe M20. With the large motor, dual suspension, and dual batteries, no one has yet come close to this price with a comparable bike.
What are you giving up for that fantastic price? The brakes are mechanical and take more pressure and distance to stop. The gearing is not ideal for pedaling and this ebike is not set up for zooming up hills. The throttle is a full twist, which might be a safety concern, and the headlights don't seem watertight. You should expect to have to do some assembly, and the instructions have some bits that can be confusing.
 If our review helped you decide on the Engwe M20, we would appreciate it if you use our affiliate link. Thanks for your support!
If you are looking for similar options, here are a few other ebikes that might interest you.
Ariel Grizzly, which is a higher-end version than the X class and is priced at $3,299
Ride1Up Revv1, which comes in both full suspension or a hardtail, starts at $1,895
Euybike S4, another Chinese bike with a slightly bigger motor-video review should be posted by October 2023
Super 73, We haven't reviewed any yet, but they focus solely on moped-style ebikes
Electronics (Battery, Motor, Display)
8
Components (Shifter, Derailleur, Fork, Brakes)
8
Engwe M20 Pros
Fantastic price
Moped styling
Three color options
Dual battery
Dual Suspension
Mag wheels with fat tires
Bright integrated dual headlights
Integrated taillights and brake lights
Engwe M20 Cons
Entry-level Shimano derailleur
Frequent ghost pedaling
Mechanical brakes with 160 mm rotors
More difficult assembly
Not great performance on hills
Full-twist throttle