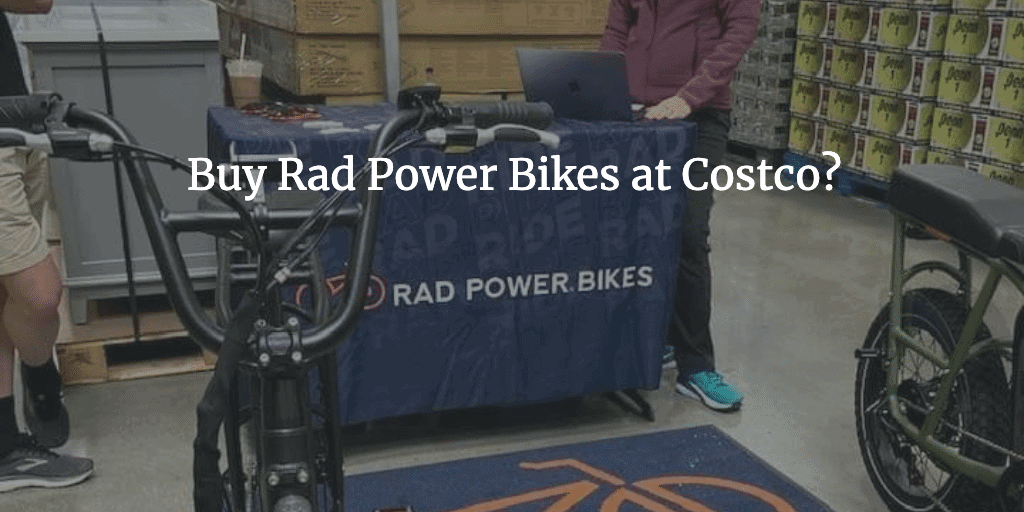 Rad Power Bikes certainly has the scale to try out unique programs. To date, this has included their Mobile At-Home test ride, a free offering available in select areas. As of publishing, locations include Seattle, Sacramento, Vancouver, Austin, Portland, and Miami. Rad Power Bikes also did a 11 stop "Deserts and Plains Tour" in the Southwest and Texas. Even more recent is a brand new partnership that Rad has forged with the warehouse club Costco.
While there are no details about this deal online, it seems that Rad is testing out Costco as a new marketing channel. It is too soon to say whether this is a test or whether we can expect this to roll out to more clubs across the US in the near future. The news was first reported in the Rad Power Bikes Facebook group where people started posting photos of a Rad Power Bikes stand in Costco (below).
Rad Power Bikes Costco Deal
According to Costco shoppers, Rad Power Bikes has made appearances at both Carlsbad and Hungtington Beach Costco locations in California. In photos, it appears that Rad Power Bikes is specifically showing off the RadRunner 1. What makes this newsworthy is the fantastic pricing they are offering. For $1,299, customers receive a certificate or e-gift card that has a $1,500 value. Instead of buying the bike in-store, customers are directed to use the certificate on RadPowerBikes.com.
Besides $200 off a Rad Power Bike (which is a great deal to start with), customers get a 2-year warranty (standard is 1 year), and a 'BOGO50' promo. This provides 50% off a second accessory when purchasing the first one at full price. This needs to be done at the time you purchase your electric bike. Rad Power Bikes is apparently at the Huntington Beach location until July 19th, 2020.
As far as pricing goes, this is the best deal you can get on a Rad Power Bike. Currently, the only promotion close to the $1,299 price is the $200 promo code available to medical personnel, first responders, teachers, students, and active/former members of the military. You can see all of the up to date promotions on my ebike deals page. Perhaps the only other way to get a Rad Power Bike this cheap is waiting for their Black Friday sale where they clear out previous years' models.
Rad Power Bikes Vendor Road Show Dates
A member of the Rad Power Bikes Facebook group recently shared the below dates that Rad Power Bikes will be at other Costco locations. You may want to confirm with each store, but the dates that were posted are listed below. Update: You can now view the full list of Rad Power Bikes Special Events Schedule at Costco online.
San Jose, CA Costco (7/17/20 – 7/27/2020)
Carson City Nevada (7/17/20 – 7/26/2020)
Seattle (7/31/2020 – 8/9/2020)
Portland (7/24/2020 – 8/2/2020)
My Take on Rad Power Bikes Entering Costco
One of the major sticking points for potential Rad Power Bikes customers is the ability to try before buying. This is the reality with any direct to consumer electric bike company. Rad is clearly trying different ways to allow people to test ride or even see an ebike prior to purchase. It's certainly a delicate balance since one of the reasons Rad is able to offer ebikes at such an affordable price is because of their direct to consumer model. However, their significant scale also helps, along with an ever-increasing number of owners around the world. It is exciting to see Rad Power Bikes explore other ways of getting their ebikes in front of more potential customers. If you're looking for a Rad Power Bikes test location or planning to purchase a Rad Power Bike please check out Rad's "Where to Ride" page.