If you're taking your ebikes on the go I highly recommend checking out ebike covers. Most people that purchase a hitch mounted electric bike rack like the one I reviewed from Hollywood Racks, also purchase a cover. The one I see many people purchase and the cover I recommend myself on my ebike accessories page is from a company called Pro Bike Tool. They sell three different sizes of ebike covers which are available on Amazon.
Full disclosure, Pro Bike Tool sent me this ebike cover so I could share it with my audience. There are of course other options for ebike covers. I've even seen people use grill covers for their ebikes. If you want to get a closer look at this cover from Pro Bike Tool, check out the video below.
Why You Should Consider Ebike Covers
Most people who purchase an ebike cover are using it on the road. You might also consider using one at home depending on where you store your ebike. An ebike cover accomplishes two goals: protecting your ebike from the elements and offering a layer of security.
The Pro Bike Tool cover is waterproof as well as anti-UV. It is made of a high-quality ripstop Oxford fabric so there is no doubt that it is a durable cover. Besides protecting against any type of weather you might encounter, the cover will also hide your electric bikes. It won't be obvious to passersby that there are expensive ebikes on the racks. However, I still recommend having your ebikes locked up while covered.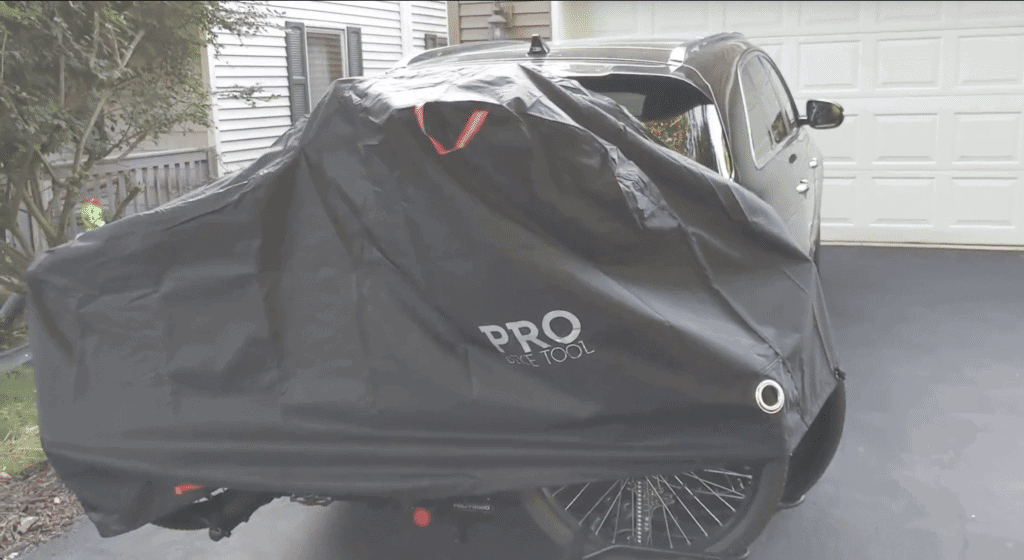 While having your ebikes covered while driving may seem like a good idea, on most vehicles this isn't going to be safe. This is because the cover will cover up your taillights as well as your license plate. Thus, the cover should only be used when parked unless your taillights are still viewable or you have some other taillight solution. I'd also consider throwing the cover on temporarily in the event of a downpour while on the road.
Ebike Cover Sizing
The ebike cover sold by Pro Bike Tool comes in three sizes. The company recommends sizing up for ebikes which means unless you have a small ebike, you'll probably need to purchase the size XL or XXL ebike cover. If you're carrying two ebikes, buy the XXL ebike cover since the ebikes are positioned apart and in opposite directions. The sizing information is below and more information can be found on Pro Bike Tools' website.
As you'll see in the video below, the Pro Bike Tool cover cinches around the edges. Straps are also included to hold the cover down. The grommet or hole you see is a front lock hole which is available to keep your cover secured.
If you are planning to purchase this ebike cover you can find it on Amazon (affiliate link that helps support Ebike Escape).