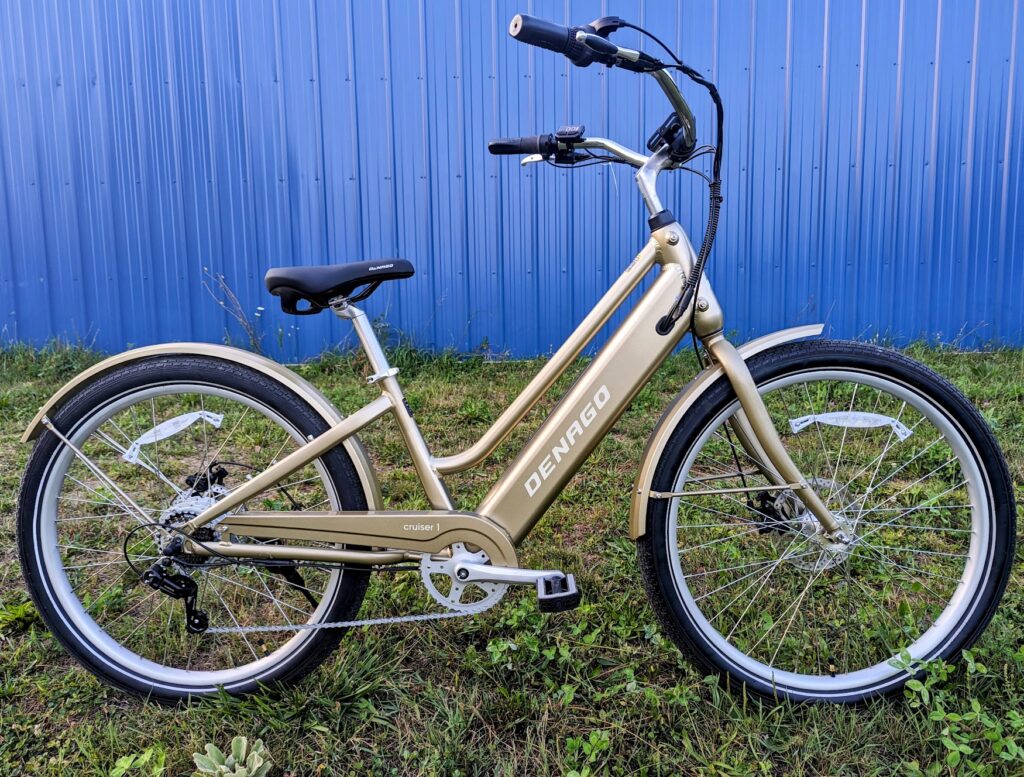 After a review of the Denago Cruiser 1, we can happily report that it is a great ebike for the price and the right situation. As the name suggests, this is a comfortable ebike meant for cruising around town. This would work great on a boardwalk or around a mostly flat location. Priced at an amazing $1,099 with a US-based service center it's hard to beat if you're looking for a basic affordable ebike.
If, after looking at our review, we help you decide to buy the Denago Cruiser 1, please consider using our affiliate link below. It is a free way to support Ebike Escape.
Denago Cruiser 1 Video Review
Review of Frame Design for the Denago Cruiser 1
The Denago Cruiser 1 is a beach cruiser-style bike with exaggerated swept-back, high-rise handlebars, and an upright riding position. This is designed for a comfortable ride that minimizes pressure on the rider's wrists and back.
The Cruiser is available in both a top tube and a step-thru frame style. Both come in only one frame size, and both fit a wide range of riders. The top tube frame is advertised to fit from 5'4″ up to 6'3″ riders, while the step-thru fits riders from 5'1″to 6'1″. The step-thru has a standover height of 21 inches, while the standover height for the top tube is 32.5 inches.
There is a single color option for the top tub: black. For the step-thru, there are three color options: gold, teal, and, a rare color option in the ebike world, pink. A nice touch is the inclusion of paint-matched fenders and chain guard.
The total weight of the ebike with the battery is 56 lbs, a very reasonable weight for an ebike. This light weight means it's easier than the average ebike to manage when riding so it's great for those new to ebikes. The maximum rider weight is 300 lbs and the optional rear rack has a 55 lb capacity.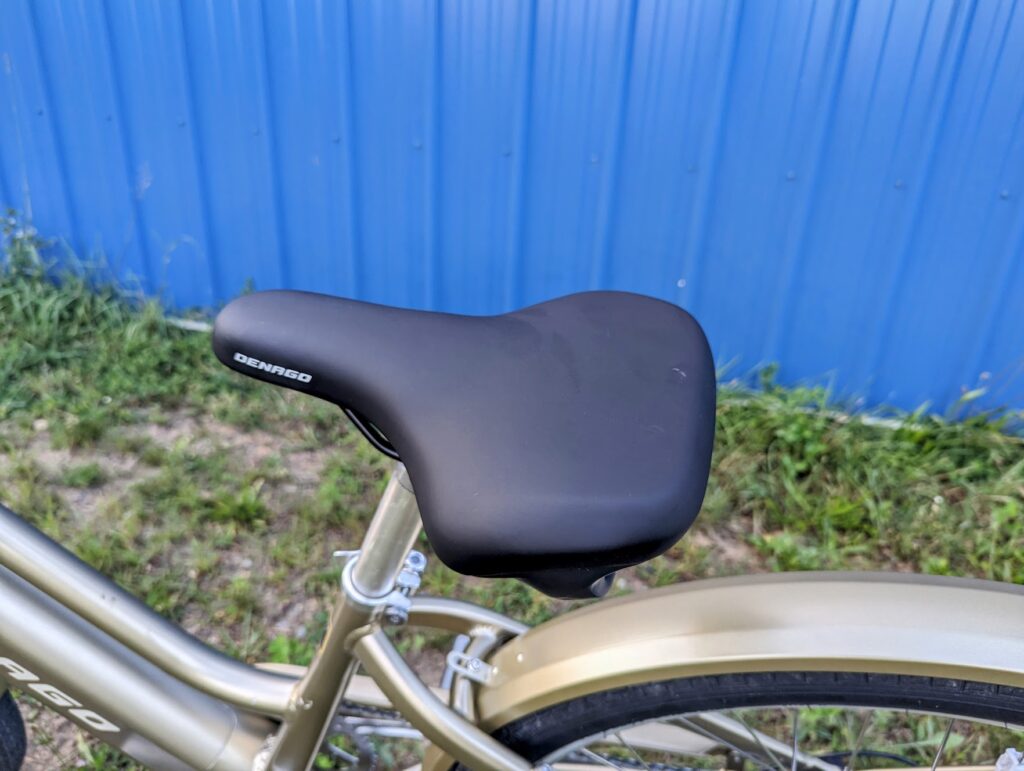 The seat is a padded cruiser seat but in our opinion it's just average. If you want an upgrade, consider the ultra-wide and comfortable YLG seat. There is no suspension on the Cruiser 1, which is normal for a cruiser. You could easily add a suspension seat post to absorb more of the bumps.
Battery, Motor, and Electronics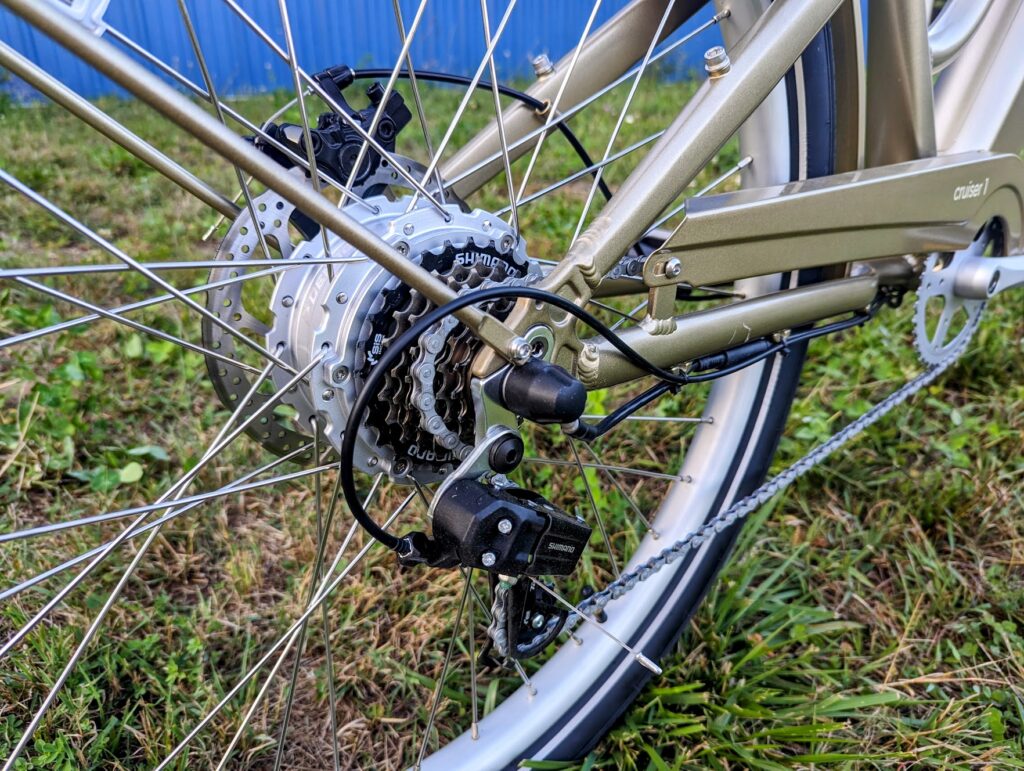 A Shengyi 350-watt rear hub motor powers the Denago Cruiser 1. This propels the rider up to 20 miles per hour with either the left-hand twist grip throttle or the pedal assist, making this a Class 2 ebike. On our review, this smallish motor did great on the flats but got sluggish on the hills. For more details, check out our video review.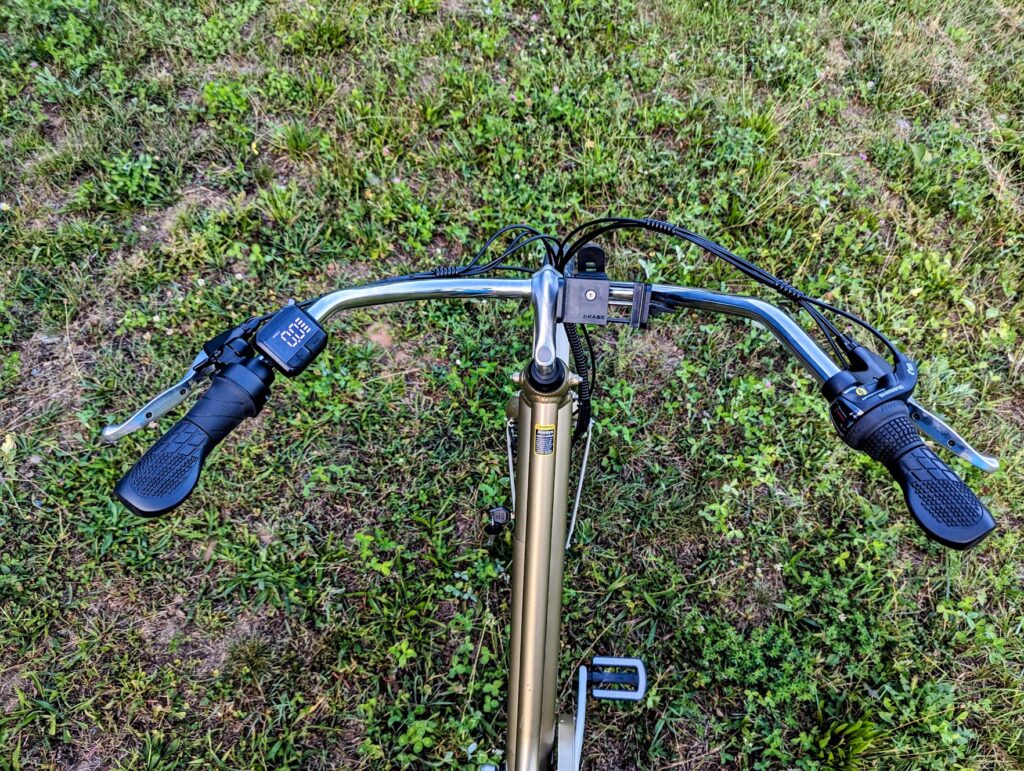 There are five levels of pedal assist that work with a cadence sensor. They will boost you up to 8, 12, 16, 18, or 20 miles per hour respectively. Alternatively, you can use the left-handed twist throttle. As with all of Denago's ebikes, the throttle will not engage from a standstill. This is a safety feature to ensure you don't accidentally turn the throttle when hoping on the bike.
Housed in the frame discretely is a 36 V, 10.2 Ah battery, which provides a total of 367.2 watt hours. With that battery, there is an advertised estimated range of 30+ miles. As with all range estimations, there is a great amount of variability, and things such as speed, pedal effort, weight of the rider, and terrain can greatly affect how far you can go on a single charge. Always assume you won't be reaching the max range. We'd expect on the lower end with throttle only at 20 mph to get 15-20 miles and perhaps up to 30+ miles if you're using the lowest level of pedal assist.
The basic digital display shows speed, trip distance, odometer, battery charge, level of pedal assist, and more. There are no advanced settings to override the bike and modify the top speed.
Components on the Denago Cruiser 1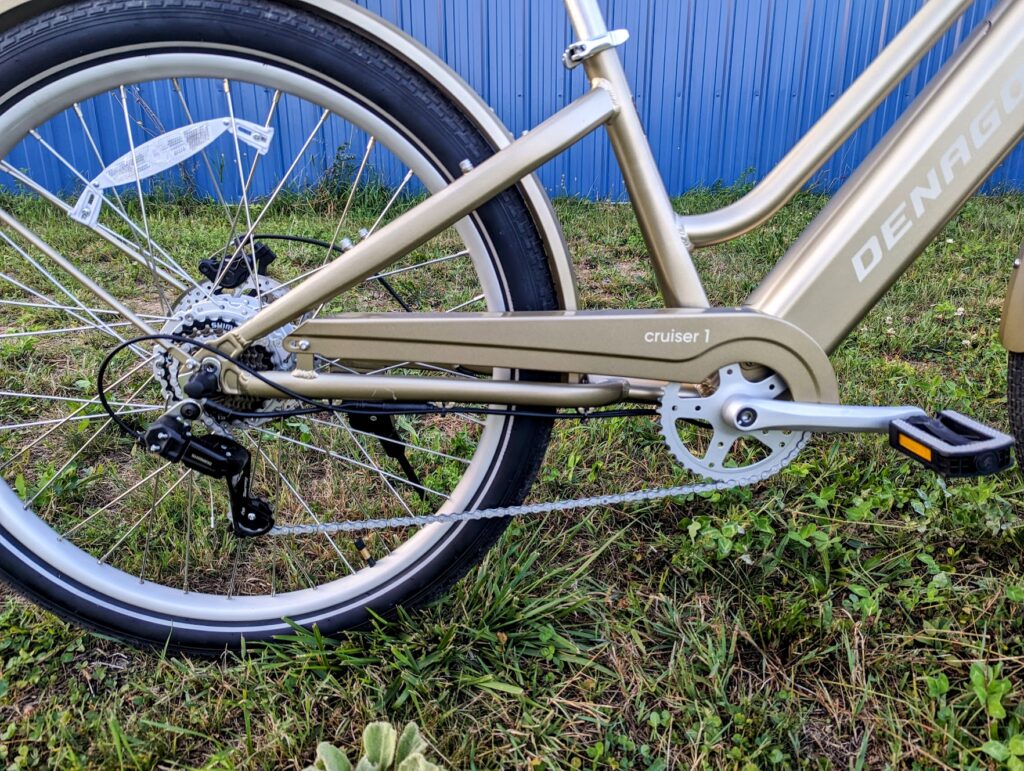 The Shimano Tourney drivetrain is a common entry-level part. It has 14-28 teeth with a 42-tooth freewheel. In the cockpit is a Microshift 7-speed twist shifter which is step up in our view from the basic Shimano thumb shifters often included on budget ebikes. It comes with an optical gear display, allowing a quick way to confirm what gear you are in.
Stopping power is provided by a lesser-known brand called Jak. As expected at this price point they are mechanical disc brakes with 180 mm rotors. Since this ebike is not meant to zoom up and down hills and has a lower top speed they are sufficient.
The tires are 27.5″ x 2.3″ cruiser tires. A kickstand is included, which fits well with the intended riding. Unfortunately, there are no lights. If you plan to ride in less-than-ideal lighting, I highly recommend picking up some lights to help you see and, perhaps more importantly, ensure others see you. See our ebike accessory list for brands we recommend.
The Denago Cruiser 1 does not include racks; adding them is easy with the incorporated mounting points.
Denago Dealers
Denago has a steadily growing dealer network now into the hundreds across the US. While they do sell directly to consumers from their website, many riders prefer to get these ebikes from a dealer because the price is the same. This allows customers to try the bike out before purchasing and provides a go-to location for troubleshooting or repairs.
Concluding Remarks on the Denago Cruiser 1 Review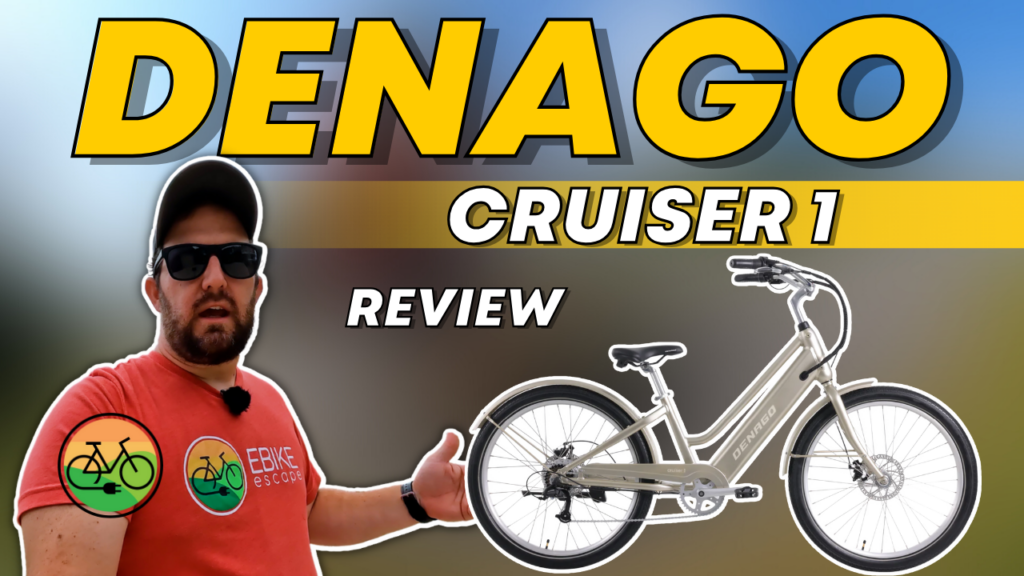 If you are someone who lives in a coastal town, likes beach cruiser-styled bikes, or is looking for a comfortable ebike to cruise around flat terrain with, and do so all on a budget, then the Denago Cruiser 1 is for you. It sells at a great price point, making this ebike accessible to a wide variety of riders and use cases. The main downsides are the smaller 36V system, mechanical disc brakes-which are not unexpected at this price, as well as the bike being sluggish on the hills. Otherwise, this is an amazing deal on an ebike from a reputable company.
If you like Denago but aren't sold on the idea of a beach cruiser, be sure to check out Denago's robust lineup of other models. I recommend checking out the City or the Commute.
Electronics (Battery, Motor, Display)
8.5
Components (Shifter, Derailleur, Fork, Brakes)
8.5
Denago Cruiser 1 Pros
Affordable price
Comfortable riding position
Upgraded shifter
Top tube and step-thru options
Paint matched fenders
Available at Denago dealers
Denago Cruiser 1 cons
Mechanical disc brakes
Small motor
No lights
Small battery
36V system