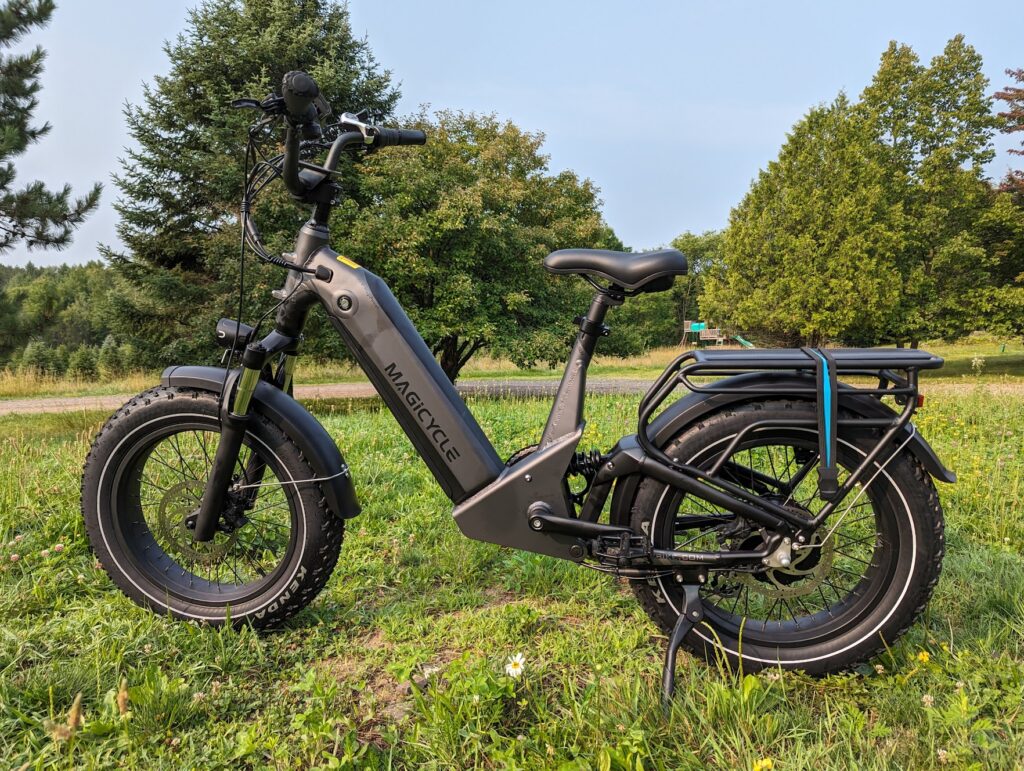 We recently got the chance to review the Magicycle Deer, a full-suspension powerhouse with a 750-watt rear hub motor and a 52V battery. The step-through frame makes it easy to get on and off your ebike. If you want a fast fat tire ebike that can handle any terrain but still has some great commuter features, this might be the right ebike for you. At $2,499, this ebike isn't priced as an entry-level ebike, but it certainly comes with great specs to justify that price.
See our video review below or read ahead for the written version. If you decide to buy the Magicycle Deer, don't forget to use our code ESCAPE200 on their website for $200 off your Deer ebike. The coupon code ESCAPE will get you $100 off your order of $1,500 or more which applies to other Magicycle models.
Magicycle Deer Video Review
Frame Design for the Magicycle Deer
The Deer stands out in the market with its full suspension. It has a front suspension fork with lockout and a rear coil shock to maximize comfort and ability to go off-road. Step-thru frames are more popular, but often that leads to limitations for rear suspension. Magicycle managed to make it happen on this ebike designed for comfort and accessibility.
Our video review of the Magicycle Deer is with the 20-inch wheels. This version of the ebike is a 16-inch frame. It is a step-through frame design for easy mounting and dismounting with a stand-over height of 24 inches. The 20-inch wheel ebike is recommended for riders between 4'10" and 6'2″. It weighs 83 lbs which is on the heavier side, which is the result of the extra frame needed for rear suspension.
The Magicyle Deer also has an option for 26-inch wheels. These wheels are matched with a slightly larger 18-inch frame. The standover height is higher at 27 inches, and the recommended rider height is a bit higher from 5'5″ to 6'8″. This larger version weighs 92.3 lbs, about 10 lbs heavier compared to the smaller version.
Both versions of the bike have a max payload capacity of 400 lbs. They both come in a bold Dawn Yellow and more subtle Space Gray. The larger bike has the additional option of Neon Green, while the smaller frame comes in Pearl White. Swooping handlebars on both Deer models put the rider in a slightly more upright riding position.
Bottom line, if you're a shorter rider the 20″ Deer is going to be easier to handle and not as intimidating. For taller riders and those wanting a full-sized fat tire ebike, the 26″ wheel size will be more capable off-road.
Battery and Motor for the Powerful Magicycle Deer
The motor on the Magicycle Deer is a powerful 750-watt brushless rear motor that peaks at 1,100 watts. With 96 Nm of torque, this ebike can climb some hills. It is powered by a huge 52V, 20 Ah battery. They advertise a range of 80+ miles. In previous testing, we've gotten up to 60 miles on a 20Ah battery, and that is while riding on hills. Their claim of 80 miles could be realistic if you can control your use of the throttle.
The Deer comes equipped with a right-hand twist grip throttle. Cruise control allows you to cruise at a consistent speed while using the throttle. While this may not be the most used feature, it can be really convenient in the right setting. To engage the cruise, use the throttle to set the speed, and hold it for 8 seconds.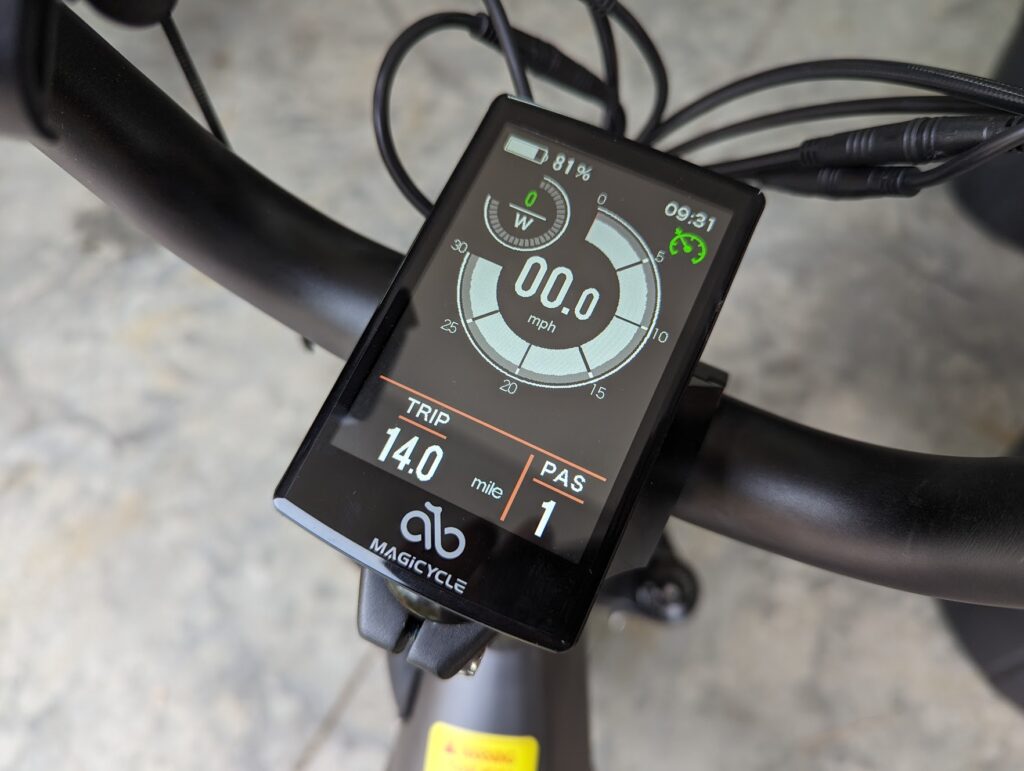 The LCD screen is a color display. While the display is colorful and eye-catching, it is difficult to see in direct sunlight. In the advanced settings, you can adjust the power provided by each of the seven levels of pedal assist. This allows you to customize your ride to your liking.
The Deer has a cadence sensor and is a Class 3 ebike maxing out at 28 miles per hour with pedal assist.
Component Review for the Magicycle Deer
We love seeing hydraulic brakes, and the Deer delivers that along with 180mm rotors. With a powerful ebike like this, you need confidence in your stopping power. You also want to be safe, so seeing the motor cutoff switch is nice. This will stop power to the motor as soon as the brakes are engaged.
The large front chainring is 53-teeth. While it's nice that they thought about reducing ghost-pedaling, our test riders still found themselves ghost-pedaling (not being able to provide human power) at higher speeds. This chainring is paired with a Shimano 14-28T rear freewheel and a Shimano 7-speed shifter.
Adding to the comfort on the Deer are Kenda 4-inch-fat tires. Going off-road is not a problem for this bike. It also includes a comfortable seat, an integrated headlight, integrated brake lights, and a rear rack. There are fenders for both front and rear wheels included, too.
Conclusion of our Review of the Magicyle Deer…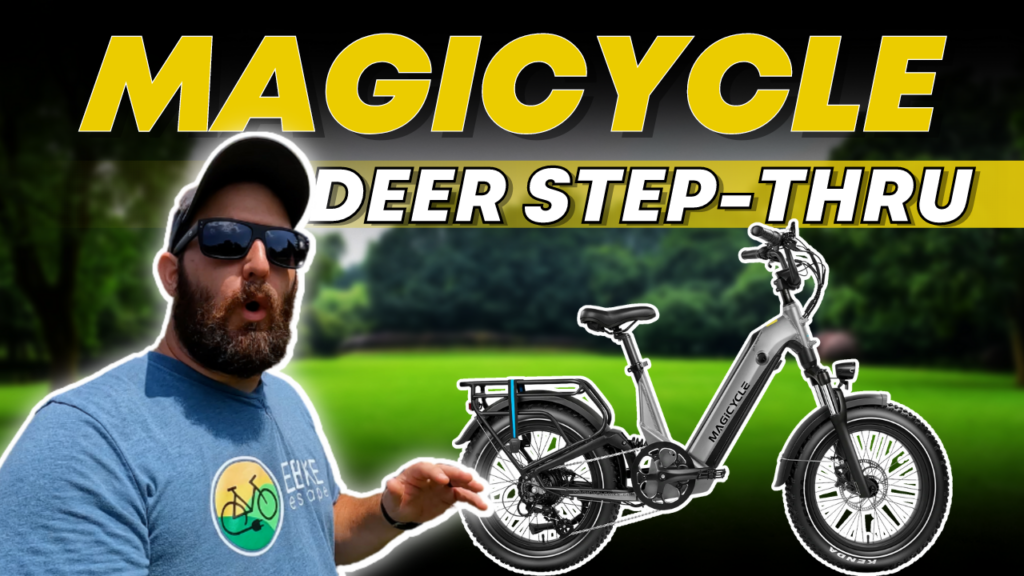 The Magicycle Deer is a mix of commuter comfort and off-road capabilities. It has a step-through frame for increased accessibility and a full suspension frame. There is a powerful 750-watt motor and a large 52V, 20 Ah battery. It's an ebike for the maximalist who wants all of its features. But with that comes an increased cost. Having both 20″ and a 26″ wheel options is also a big selling point.
We love the adjustable levels of power for pedal assist, and it is always great to see hydraulic brakes on faster fat tire ebikes. It's also worth considering that Magicycle is a Chinese-based brand and to our knowledge does not have US-based support. While our review model performed flawlessly, customer support may be more difficult to work with.
Don't forget to use our code ESCAPE200 for $200 off. You can also check out Magicycle's Cruiser and Cruiser Pro models.
Electronics (Battery, Motor, Display)
9.5
Components (Shifter, Derailleur, Fork)
8.5
Magicycle Deer Pros
Full Suspension
Step-Through Frame
750-watt motor
52V, 20 Ah Battery
Cruise control throttle
Rear rack
Fenders
Integrated lights
Two wheel size offerings
Magicycle Deer Cons
Not an entry-level price
Ghost pedaling at higher speeds
The screen is hard to see in bright light
Heavy (85 lbs)
Overseas support