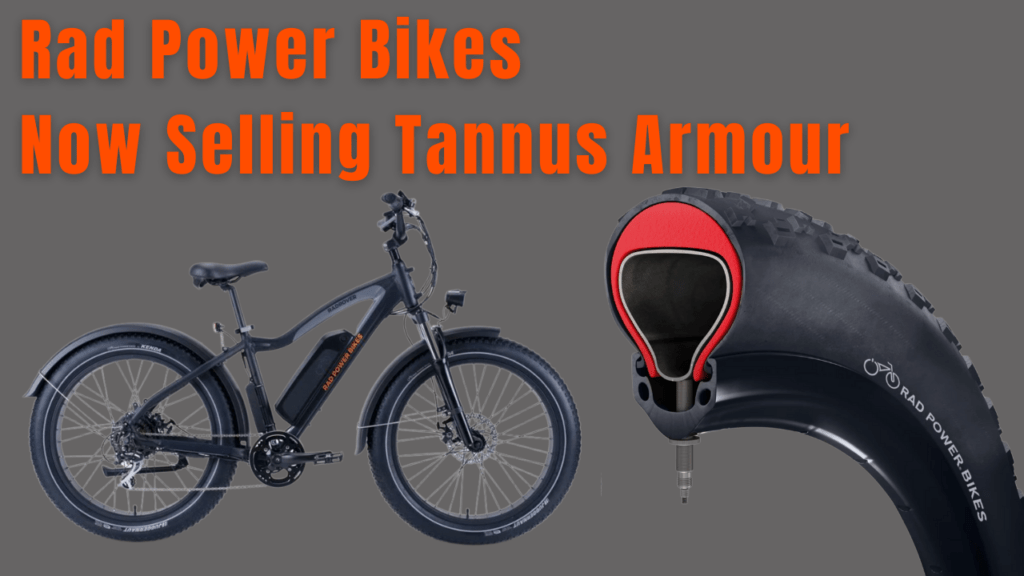 It was only a couple of months ago that we completed our Tannus Armour tire liner review for electric bikes. At the time we became aware that a Rad Power Bikes and Tannus partnership was in the works but we had to keep quiet until now. Today, Rad Power Bikes made the news public. You can now purchase Tannus Armour tire liners directly on the Rad Power Bikes website.
The gut punch of a flat tire is all too familiar for most riders. Here are some tips for making those flats a rarity! https://t.co/hASDXiBEdv pic.twitter.com/js3LA41sog

— Rad Power Bikes (@RadPowerBikes) March 31, 2021
At the time of writing, liners are in stock for every Rad Power Bikes model which I imagine won't last. What's unique about the partnership is that Tannus created custom sizes to fit all of their models – yes even the 22″ tires found on the RadWagon 4. Note that depending on the model of your Rad Power Bike electric bike, you may need to trim the Tannus Armour to size. More details on the install process and whether you will need to trim the liners is over on the Tannus website.
Adding Tannus Armour liners to the mix is just another example of the Rad Power Bikes striving to offer a true one-stop-shop for your ebike and any accessories you might need. You can check out our full Tannus Armour review but the short of it is that the liners offer puncture protection for your ebike.
Tannus Pricing and Protection
This includes up to 15 mm at the top of the tire and up to 5 mm along the sidewall. The sidewall protection is what sets Tannus apart from some of its competitors. The liners themselves are made of a multi-cell foam compound. Because of the size of the Tannus Armour liners, you will need to size-down on your tubes. But don't worry, Rad and Tannus have you covered and two new tubes are included in your purchase. Prices are $85 for all sizes of Tannus Armour with the exception of the 26″ x 4″ Tannus Armour for the RadRover. Those are slightly more at $120 a set.
There is peace of mind that comes with using tire liners on your electric bike which is why I recommend them on our electric bike accessories list. Liners are especially important if you live in an area with goatheads. As a bonus, due to the volume that the liners take up within your tire, Tannus Armour provide run-flat protection in the event that you do get a flat.
If you're going to purchase Tannus Armour Tire liners from Rad Power Bikes please consider using our link which supports Ebike Escape. You can also check out the video below for more information.