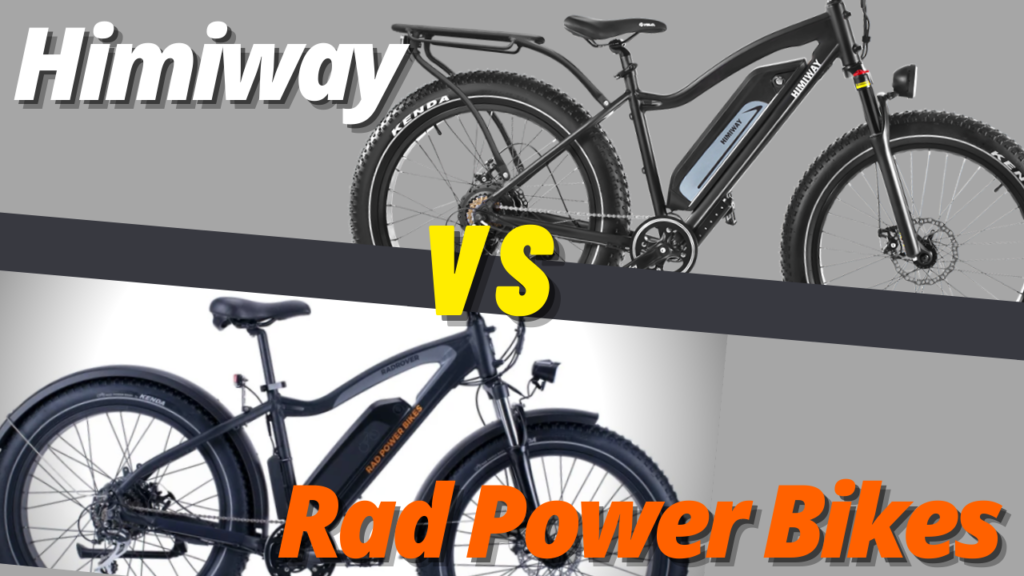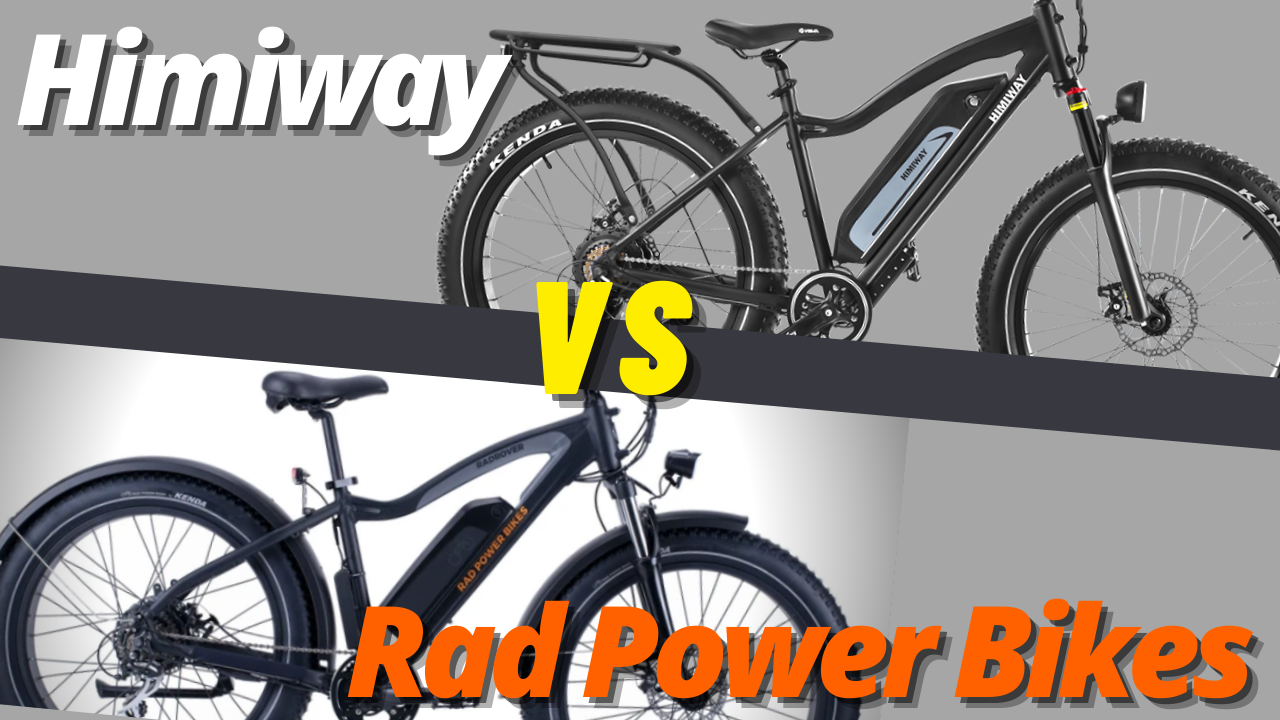 Comparing the Himiway Cruiser vs RadRover 5
Upon first glance, if you saw the Himiway Cruiser and the RadRover 5 side by side, you wouldn't be looked down upon if you mistook them for the same bike. Both have an almost identical frame style, with a slight bend in the top tube near the seat side. And the high-rise handlebar set up, along with bottom tube battery mount, makes the two look like very similar bikes.
But there are definitely some differences between the two bikes, when you take a close look at the specs of the Himiway vs Rad. They're less identical than first glance would have you think. And that includes the price tag.
Himiway vs Rad: The motor and battery
The motor is one area the two bikes are basically identical. Both feature a 750 w gear hub drive motor with 80 nm of torque, plenty to haul either of these fat bikes over the roughest of terrain.
Both batteries are 48V packs sporting Samsung cells, but the Himiway Cruiser's battery has a 17.5 Ah (840 Wh) battery, allowing it an estimated 35 (full electric) – 60 miles (lowest pedal assist) on a single charge. The RadRover 5 only gets an estimated 25 – 45 miles on its charge with its 14 Ah (640 Wh), which means less time out on the single track or plowing through the snow on your way to work.
Gearing, shocks and components
Both have a seven speed cog in back with Shimano derailleur (RadRover's is Acera, Himiway has Shimano Atlus shifters) and a single-speed crank front. Rad and Himiway both have dual guards around the front ring to protect against dirt and muck clogging up your gears. This also helps prevent getting your pants dirty while riding.
And both bikes come with a front shock fork (Rad's an is RST, Himiway's doesn't specify), and Kenda 26×4″ fat bike tires.
Neither bikes really seem to have much of an advantage but it's odd the Himiway doesn't offer more specifics about its components. Although Shimano components tend to be good, for example, there is a wide range in its product lines and knowing the specific model is important for comparison purposes. View the full specs of the RadRover 5.
Speed
Out of the box, the Himiway Cruiser can hit top speeds up to 22-23 miles per hour, but you can actually tinker with the settings to allow up to 28 miles per hour speeds. Make sure you follow local bike laws if you do this since many places have limits on how fast you can travel on an ebike.
The RadRover by contrast can hit 20 miles per hour on a flat or even going up small hills. The RadRover is a Class 2 ebike, coming from the factory limited to this 20 mph with either pedaling or using the twist throttle (or both). It too can be overridden in settings to reach speeds of around 23 mph. Plenty of speed for most people.
Other considerations in Himiway vs Rad
There are a few other comparisons to look at in our look at Himiway vs Rad. Both come with front and rear fenders, but the Himiway comes with a rear rack ready to go (with a wood grained panel on top, and interesting choice for a fat bike). You'll have to fork over $79 for the RadRover rear rack, which admittedly is very well built. Get a closer look at the rear rack in this YouTube video.
The Himiway Cruiser has a much larger payload capacity, 350 pounds vs RadRover 5's 275 though it's hard to know for sure if Rad is under-promising and over-delivering. Weight ratings on ebikes are tricky since you don't necessarily know how much effort goes into determining them. The RadRover does come in a little lighter, at 69 pounds versus 72 for the Himiway Cruiser. And both bikes use Tektro Airies 180mm mechanical disc brakes.
Some other similarities include twist-grip throttles, and both have main-battery powered head and tail lights.
Price
Rad's been known for building affordable, quality ebikes, so it's a little bit of a surprise that they lost out on price. In fact, Rad Power Bikes most recently increased the price to $1,599 from $1,499. The Himiway Cruiser comes in at $1,399, a full $200 less than the RadRover 5 at $1,599 – plus you get the rear rack. The Himiway Cruiser is even more affordable if you use my $50 off Himiway Cruiser referral code.
Himiway also offers a step-through model of the Cruiser, with a lower top tube for easier mounting and dismounting. It features the same price and specs as the regular Cruiser model. The Himiway Cruiser Step-Thru has a standover height of 28″ whereas the RadRover Step-Thru (pictured below) boasts a standover height of just 20.25″. This nearly 8 inches of difference could be the determining factor for people looking for the most accessible fat tire electric bike.
The Himiway Cruiser high step is offered in black and the step thru variation is only offered in white. This simplicity in choices also likely plays a role in the affordable price of the Himiway Cruiser. The RadRover step thru is offered in both black and white. The high step RadRover 5 is offered in black and a new offering, forest green.
Which should you get? Himiway vs Rad
It was surprising that with the big price difference, the Himiway Cruiser came out ahead on so many different categories. It has a longer-lasting battery and still uses a similar 750w motor. It's a little suspect that Himiway doesn't list specifics for a lot of its components – this might be where the cost savings come from, using some more generic components. But unless you're a gearhead, you might not care much about that, and it's probably unlikely to make a huge difference on your ride. What will make a difference is having more time to ride, and that coupled with the lower price makes Himiway an attractive option.
Where Rad Power Bikes shines is their solid reputation and unparalleled customer support. Rad Power Bikes is after all the largest seller of electric bikes in the United States. There is comfort in buying from Rad knowing they are a large company. Plus there is a huge community of happy Rad Power Bikes owners.
That being said, Himiway states that they have a full 2-year warranty compared to Rad Power Bikes' 1-year warranty. Though you might want to check out the Electric Bike Review forum for some firsthand experiences from those that purchased Himiway ebikes. For a lower price, bigger battery and included rear rack, the Himiway Cruiser a serious contender.
Not to further complicate your decision, but Himiway also offers the Escape, a moped-style ebike at $1,599 when you use the "escape" discount code to receive $100 off.
Interested in learning more or purchasing the Himiway Cruiser or Rad Power Bikes RadRover? Using the links below supports Ebike Escape:
Check out the Rad Power Bikes RadRover