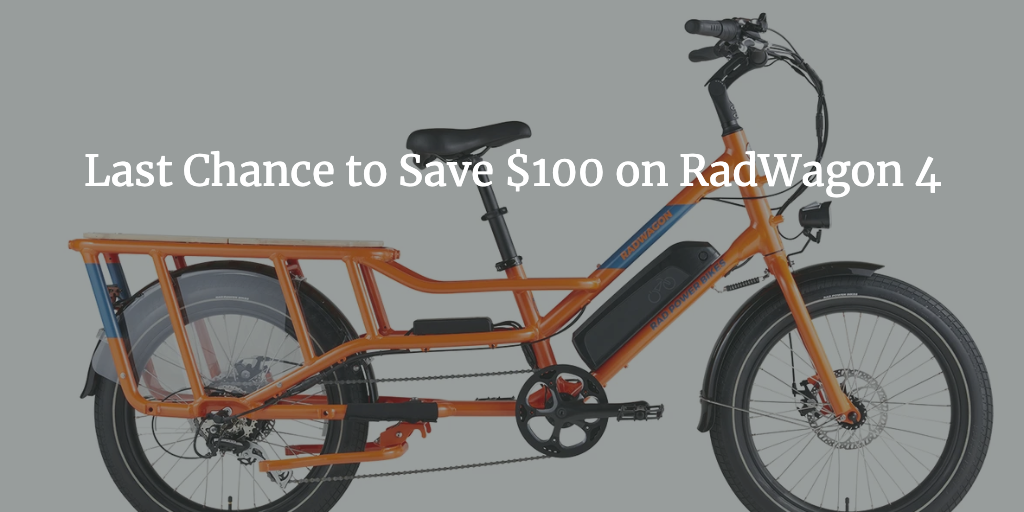 Back when Rad Power Bikes first introduced the RadWagon 4, they did so with limited time preorder special pricing. Now that special pricing is slated to end on Thursday, July 30, at 9 a.m. PT. If you purchase before then, you will still be eligible for the $100 discount. Current preorders are scheduled to ship in September, but check out the Rad Power Bikes website for updated shipping estimates.
Should you buy the RadWagon 4?
If you're familiar with my content you're already aware that I am the proud owner of a 2018 RadWagon. We have over 3500 miles clocked and it has been the best purchase we have made for our family. In my mind, no other cargo ebike compares to the RadWagon at the $1500 (or even $1599) price point. It's the do-everything ebike and it's backed up by the quality customer support Rad Power Bikes is known for. We like to call it our minivan since it replaced our second vehicle. After riding my RadWagon, my brother decided to purchase the RadWagon 4 so I'll be sharing a hands-on review on my YouTube channel once he receives the bike.
I shared my full thoughts when the RadWagon 4 first launched, but one of the main things to be aware of is the tire size. At the time of writing, Rad Power Bikes doesn't list the RadWagon 4 tubes on their website. I recommend calling (if you can get through) or emailing them to add tubes to your order. The unique tire size means you won't easily be able to source tubes from a third party. Given this reality, you'll want to make sure to have extra tubes on hand so you're not left stranded. There is no guarantee that these 22″ x 3″ tubes will be in stock when you need them. Be sure to ask for free shipping since they should be included with your order. Otherwise, standalone shipping is $10 in my experience.
Which Accessories for the RadWagon 4
If you're carrying passengers I would recommend either the passenger pegs or the running boards. My brother opted for the running boards and plans to purchase his own seat pad and deckhand instead of the ones offered by Rad Power Bikes. I will be sure to share these accessories once the bike arrives. We've also been using the Thule Yepp Maxi child seat heavily and it is an accessory I highly recommend if you have small children. Between now and when you receive your RadWagon 4 you may also want to check out my ebike accessories list for other add-ons.
If you're planning to purchase a RadWagon 4, please consider doing so through this link, which helps support Ebike Escape.