I am a big fan of the company Seatylock for ebike locks. Seatylock has several innovative options for bike locks, including a lock and bike saddle combo (called Seatylock) and Foldylock Compact, a compact travel-friendly lock (read our review here). While I love the Foldylock Compact, I found that I needed a longer, non-compact lock for the large poles and odd bike racks at the places I visit. I am also leery of leaving my bike locked up downtown now that I am riding a more expensive bike (read my RadMission Review). That is why I am loving Seatylock's Viking Chain Lock. The Viking Chain Lock not only has superior security ratings but also comes in three different lengths that make locking your ebike a breeze. I have been using the Viking Chain 110 for a solid month now, and I am excited to share my full Seatylock Viking Chain lock review below.
Seatylock Viking Chain Lock Review
The Seatylock Viking Chain Lock is a heavy-duty steel chain encased by a water-resistant neoprene sleeve that reduces the rattle. The casing and the silicone-covered components increase durability and offer protection against potential nicks against the bike frame from the chain. The Viking Chain is designed to be pinch-free and weather resistant. The lock comes with three identical keys.
Viking Chain Lock: Three Options
Seatylock offers three versions of the Viking Chain Lock (numbers denote sizing in centimeters):
When deciding among the Viking Chain locks, consider lock length, weight, and price as those are the three differences. Another reason I love Seatylock is its competitive market prices for all of its bike locks. When you think about the security Seatylock offer versus the cost of replacing a stolen bike, it makes the lock price look even more alluring. Many people use the 10% rule as a rule of thumb when deciding how much to spend on bike security. So if you have a $1000 ebike, you should look at spending around $100 on your bike lock for your electric bike.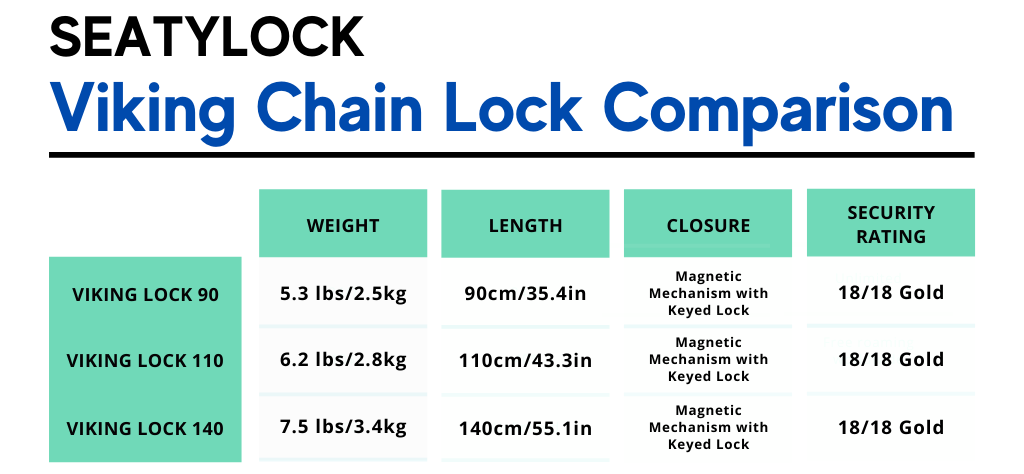 Magnetic and Key Lock Closure
The easy-to-use magnetic lock closure is my favorite part of the Viking Chain Lock. See the picture to the left. To use: first, place the red/orange end into the open rectangle. Due to the magnetic inside the rectangle, it will easily snap in place. Then, turn the lock to engage the lock through the chain. It is now locked.
You can see in the picture that the lock is half engaged. You would completely disengage it before snapping the red/orange side to the magnet. I wanted to show you the locking mechanism in the picture.
Locking up your bike is very quick using the Viking Chain Lock. The chain with the sleeve is very easy to maneuver. The magnet helps snap the end into place fast. The lock is easy to turn. Quick and simple!
Security Rating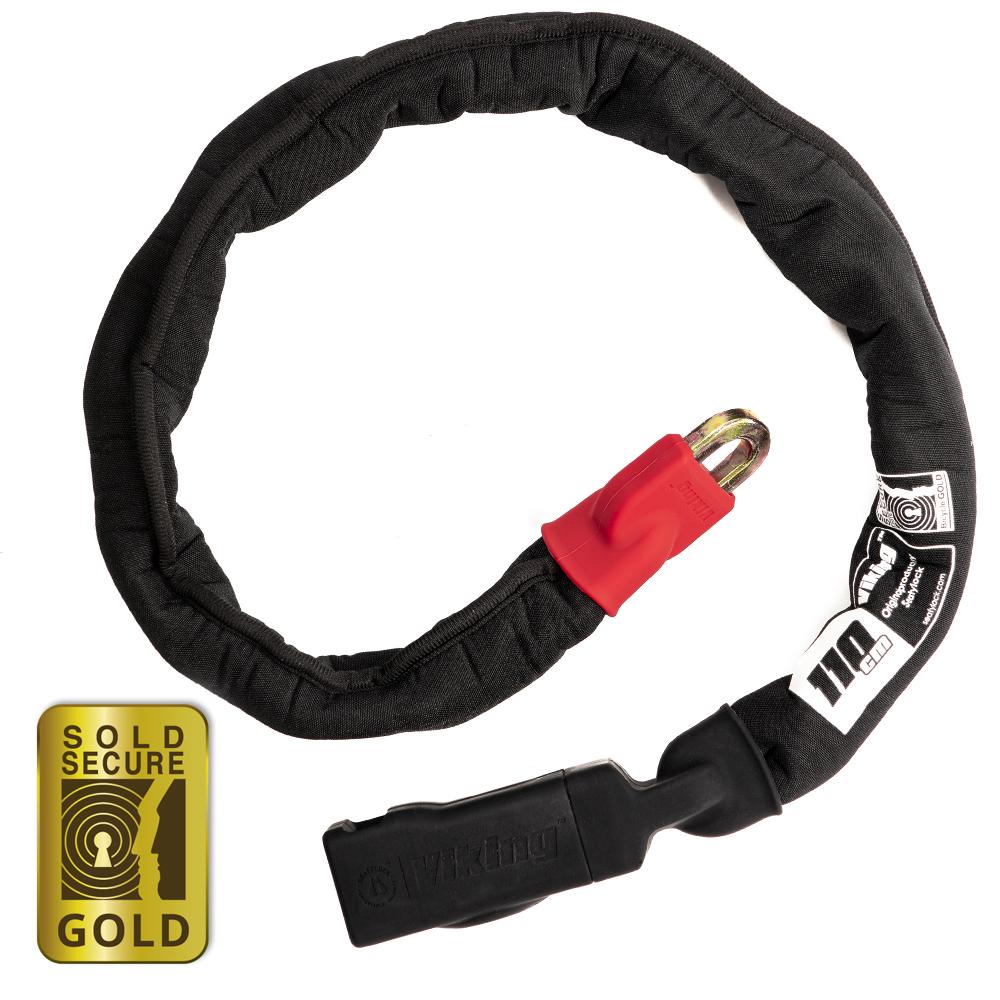 Seatylock rates their products on a security scale of 1-18. The Viking Chain Lock earned an 18/18 security rating.
Seatylock's products are also tested by Sold Secure, a not-for-profit company owned by the Master Locksmiths Association. They have three main rating categories: bronze, silver, and gold. The Viking Chain Lock earned a gold rating compared to Seatylock's Foldylock Compact's Silver Rating.
You will want to consider where you live in terms of bike theft and the length of time you will be leaving your locked ebike alone. The pros of using a higher-rated lock are, of course, security. The cons are generally that a higher-rated lock adds weight/bulk to the lock and decreases the ease of travel.
The Foldylock Compact easily mounts to a bike frame, whereas the Viking Chain Lock will need to travel in your back rack bag or panniers. I actually just wear the Viking Chain Lock around my waist when I ride. This might not work for everyone though depending on the lock length you choose and your waist size. It works for me though!
There are a lot of bike chain locks on the market to select from. Other companies known for their superior lock products like Kryptonite and Abus offer chain style options. They too offer different styles, security ratings at a wide range of prices. You will see through that Seatylock offers competitive pricing and unique designs though that will fit a lot of needs.
Final Thoughts on the Seatylock Viking Chain Lock
Seatylock's Viking Chain Lock is an easy-to-use, well-made, super secure lock for ebikes. The varying lengths make it easy to choose the version that fits your needs. I personally use the Viking Lock 110, which has been the perfect length for my needs. I am feeling much more at ease locking my ebike downtown. While I still take my battery with me if my ebike will be out of sight, I feel confident my bike will be there when I return. I highly recommend the Viking Chain Lock if you are looking for a durable and very secure lock for your bike at a great price.
For more ebike lock options and accessories, see our recommended ebike accessories list. We want to extend a special thanks to Seatylock for allowing us to use their locks and provide our feedback in this review.