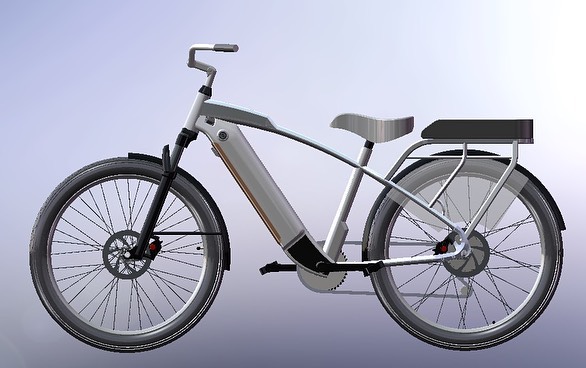 Ride1Up's electric bikes are a popular choice for those searching for an affordable but still well built and spec'd electric bike. There is a reason we've reviewed the LMT'D, Core-5, Roadster V2 and 500 Series. It is looking like 2022 will bring many new models including the Gravel Roadster, and the Prodigy – a premium mid-drive electric bike..
The company hasn't stopped there when it comes to continuing to offer new models with the latest cruiser style bike being teased on Instagram. For now only computer generated images are available but it's easy to get an idea of where Ride1Up is going with this new cruiser style ebike.
The new, still unnamed ebike will undoubtedly be the most comfortable when it comes to riding position. By the looks of it, the new model may share the same battery case as the 700 Series. The battery fits nicely into the bottom of the downtube for a clean look.
Currently Released Specs on Ride1Up's Newest Model
The below information is directly from Ride1Up. We'll be sure to share more as more information becomes available.
Custom cruiser style alloy frame with cafe handlebars
Comfortable upright riding position
Passenger capability with rear seat
48v Geared Hub Motor (28 MPH) w/ 3″ wide tires
15AH Battery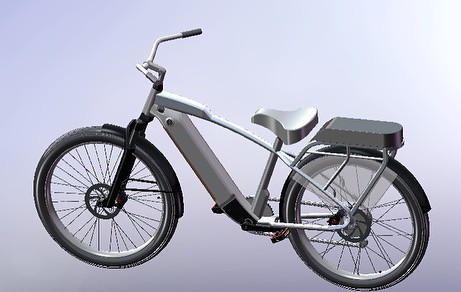 Our Take
It's awesome to see Ride1Up continue to innovate and release new models. As a cargo ebike family, we get excited any time we see a seat on the rear of an ebike. The wider tires and front suspension will add to the comfort of this cruiser style ebike. The fenders will help keep you dry and the skirt guard on the rear will help protect your rider. We're excited to see the final product and it won't be long! These bikes are expected to start shipping in January 2022. Learn more about Ride1Up's current lineup.